Yay! It's Sunday of the 4-day "Black Friday" sale! Today's theme is Paper Houses (which is also the theme of the December Kits being announced today! (Yes, that was plural "kits": 2 kits!)
Before I explain what's in the kits, here's a short recap on how these themed sale days work:
Each day I'll gather new (and current) items around a theme. And I'll pulled together a lovely Giveaway Kit made from those goodies that will be awarded to one lucky customer.
If you order on Sunday you'll automatically be entered in the drawing for the Sunday Giveaway Kit, which is HUGE! The Paper Houses Giveaway includes the New 3D House Ornament Kit and the New Glitter Houses Add-On Kit.
PLUS: everyone who places an order during the 4-day sale will be entered into a drawing for a $100 shopping spree! Click here for more info on all the gifts & freebies going on during the sale!
Hey, and who won yesterday's Miniatures Giveaway Kit? That would be Jennifer Jesson!


Today's Theme: Paper Houses
Oooh! Do we have some cute artwork today! No matter if you'd like a little house with glitter, or snow, or as an ornament (with or without a tiny accordion book), the new kits will inspire you with tons of options for decorating (and each kit comes with a different house template).
First off is an adorable house made from (only) the supplies in the 3D House Ornament Kit by Teri Calia. It has a little accordion book with the entire poem of "The Night Before Christmas" (tied with a bow so the house could even be an ornament — just add a ribbon at the top). The poem is already laid out to fit the width of the 3D house, from the The Night Before Christmas Collage Sheet (also included in the kit).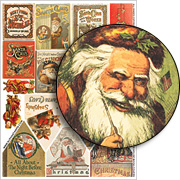 Now don't fret: the house template in the kit is really easy to put together. Plus, I've designed coordinating collage sheets with multiple fronts that could be used over the house:
Christmas House Book Covers
Bunches of covers of vintage Christmas books (mostly "The Night Before Christmas") in a mix of "normal" rectangular shapes but also 5 laid out in the house shape to match the house template. Beside coordinating with the 3D House Ornament and House Ornament Scenes Collage Sheets, you can use these book covers alone (you could use paper tape to hinge the house-shaped ones together into an accordion book, for example).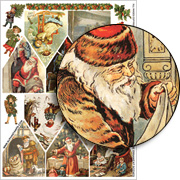 House Ornament Scenes
Tons more house-shaped scenes (from Santa to children to a snowy scene with Santa and his reindeer flying through the night sky — that teri used behind her accordion book).
And all those new collage sheets are On Sale, too! ALL Christmas Collage Sheets are on sale!
AND there are 4 full size (12″ x 12″) scrapbook papers in the kit (in a neutral palette — at least on one side — so you can keep a vintage sepia palette, or go wild and stain/mist/glitter the papers (or your house) into vibrant hues.
Finishing this first kit is a set of 4 different narrow Dresden borders, and a package of crinkle wire in silver, red and gold. Here's a list of all the items in the kit that are available to buy separately.


Next up: A snowy Winter Putz House by Design Team Member Kristin Batsel (with little cut-out windows to take advantage of the LED light inside)!
Kristin made this house using the Glitter House Template Collage Sheet (this house is a little more complicated, but if you omitted the cut-out windows and door, you could make a similarly simple house (like the first kit) but with a jaunty asymmetrical roof).
This kit includes 2 more new collage sheets, both with miniature images sized for Glitter Houses: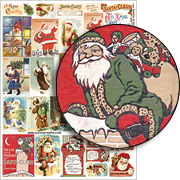 Santa is Outside
Beside many, many (small) images of Santa bundled up, out in the snow, it includes some images of Santa posed ready to come down the chimney (and some mini versions sized for the chimney on the Glitter House Collage Sheet).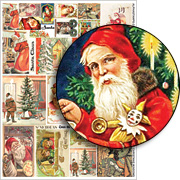 Tiny Christmas Windows
This collage sheet includes images of Santa, children and Christmas trees either seen through windows or small enough to be put behind the tiny windows on the Glitter House Collage Sheet.
Kristin provides a tutorial on her blog, too! With some great tips, like how to get the placement of the hole for hiding the wires for your tiny lights just right. Oh, and look at that tiny lamp post that lights up, too!
There's so many more little details to ponder (like those resin Santa and snowman figurines) so here's Kristin's Supply List and see more pictures (and her tutorial!) at Kristin's Blog.

Highlights of Today's New Goodies – All on Sale!
Posted by Leslie, November 30th, 2014