Hey, it's Saturday of the 4-day "Black Friday" sale! Today's theme is Miniatures.
Before I hand this post off to Miz Bella (Kim Ayers), here's a short recap on how these themed sale days work:
Each day I'll gather new (and current) items around a theme. And I'll pulled together a lovely Giveaway Kit made from those goodies that will be awarded to one lucky customer.
If you order on Saturday you'll automatically be entered in the drawing for the Saturday Giveaway Kit, which is a mix of items from today's two lovely artworks featuring Miniatures: Teri Calia's Mr. Mouse's Holiday House and Nichola Battilana's Mini Mail Room! (More info on both projects is below.) And I also threw in two new items not in either project:
Mini Clock and Winding Key Set and Wood Dress Mirror Die-Cut — both On Sale!
PLUS: everyone who places an order during the 4-day sale will be entered into a drawing for a $100 shopping spree! Click here for more info on all the gifts & freebies going on during the sale!
Hey, and who won yesterday's Giveaway Kit? That would be Joann Nestlerode!

Today's Theme: Miniatures

Design Team Member Nichola Battilana, the Queen of Tiny Creations has created a cute Miniature Mail Room that is made from a Small Wood Box with Lid.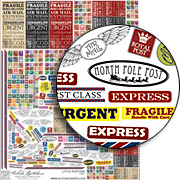 The Miniature Mail Room is packed full of wrapped packages (that are made from 7/8 Inch and 1 Inch Wooden Cube Blocks) and letters that are waiting to be delivered. How sweet are those teeny, tiny letters? Wouldn't you like to have your own to leave out for the fairies to deliver?
Nichola created two new collage sheets: Little Letters and Little Postage. Both are simple adorable! Tiny Letters has tiny little letters, envelopes, postcards and greeting cards. Little Postage coordinates with the Tiny Letters sheet and has tiny little postage and package labels. And both of the collage sheets are On Sale! And, remember: you could win both of those collage sheets if you're the winner from today's Giveaway drawing!
Here is Nichola's Supply List and you can see more pictures of the Miniature Mail Room at Pixie Hill.

Next up: Mr. Mouse's Holiday House by Teri Calia is supercalifragilisticexpialidociously cute! The Altered Metal Frame – Birdhouse makes for the perfect mouse-sized, cozy home. (And I like the contrast of a mouse living in a bird house with a photo of cats on his wall.) Mr. Mouse has been very busy wrapping presents and filling gift bags. He couldn't find any wrapping paper that he liked, so Teri created the New! Holiday Bags, Tags & Boxes Collage Sheet to help him out; and as you can see, he likes it just fine.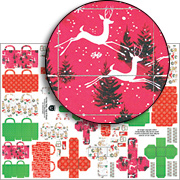 And Teri's new collage sheet is On Sale, too! ALL Christmas Collage Sheets are on sale!
It looks like Mr. Mouse was kicking back for a bit in his Mini Garden Rocking Chair (that also comes with a table) and he was enjoying a cup of tea out of the Rose Pattern Service for Two Tea Set. If you ask me, I think he got up to go and grab a bit of Irish Whiskey to add to his tea!
There's a lot to take in and it can't possibly be listed in the blog post, so grab your own cuppa Hot Toddy and browse Teri's Supply List and see more pictures of Mr. Mouse's Holiday House at Teri's Blog.

Highlights of Today's New Goodies – All on Sale!
Posted by Leslie, November 29th, 2014