Hey, it's Friday of the 4-day "Black Friday" sale! Today's theme is Time to Flourish (based on the yummy new Time to Flourish Collection with TWO papers for every month of the year)!
Before I hand this post off to Miz Bella (Kim Ayers), here's a short recap on how these themed sale days work:
I've pulled together a lovely Time to Flourish Giveaway Kit made from items in today's theme that will be awarded to one lucky customer. The kit includes ALL twenty four 12″ x 12″ Scrapbook Papers from the new Time to Flourish Collection!
If you order on Friday you'll automatically be entered in the drawing for the Friday Giveaway Kit. PLUS: everyone who places an order during the 4-day sale will be entered into a drawing for a $100 shopping spree! Click here for more info on all the gifts & freebies going on during the sale!
(And since we didn't have a "normal" Thursday newsletter yesterday: who won Sunday's Giveaway Kit? That would be Karen Ladd! Please check your email for my message about getting your mailing address.)
Free gift for every order over $20! The photo at left is a preview of the mini kit for the "Time to Flourish" theme that will be included as a gift for every order over $20 on Friday, November 28, 2014! The gift kit includes THREE of SIX brand new, exclusive Mini Annuals Collage Sheets (a mix of old and new images… retouched to coordinate with the papers in the Time to Flourish Collection)! Click on the photo to see more details.
PLUS, I'm adding a special gift to every order placed November 28, 2014: a random gift kit from those unused from the past year! (Like that skeleton die-cut and the Bee Banners Mini Collage Sheet behind him — at the top of the photo.) That's a huge group, and since the Time to Flourish Collection includes images for the entire year, all of those kits from the last year coordinate with at least one of the months! There's no need to add anything to your cart — all orders over $20 placed November 28, 2014 will receive the "Time to Flourish" mini kit.

Today's Theme: Time to Flourish

How cute and adorable is that Tiny Winter Wonderland by Design Team Member Nichola Battilana? Nichola used the Time to Flourish – January Flourish Scrapbook Paper to cover an old clock case for her Winter Wonderland.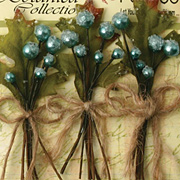 And Nichola used the teal color of the New and On Sale! Sugared Berry Clusters at the top of her altered clock case — one of four colors of these subly sparkly new holly sprigs!
By the way, I am over-the-moon in love with this fabulous Time To Flourish Collection, and I think you will be as well. It contains everything you'd need to create all sorts of calendars or monthly mementos. In addition to the scrapbook papers (and an 8×8 pad of calendar grids), there are also Cling Stamps, Chipboard Tags, and Ephemera. Just think of all the amazing projects you could create with this new collection, with endless possibilities AND it's a collection that is perfect to use year-round!
You can also create some gorgeous gifts with Time to Flourish; who wouldn't want a calendar created with such lush papers? Stunning botanical patterns with a rich color palette that reflects the iridescence of the four seasons. I bet that if you gave gifts made from this collection, every time the recipient looked at it they would have to smile!
Check out the list of supplies that Nichola used in her Tiny Winter Wonderland — and they're ALL On Sale! Then you can find more pictures and how Nichola came to make her project at Pixie Hill.

Posted by Leslie, November 28th, 2014