Get your magnifying glass out because Design Team Member Nichola Battilana has created a miniature vignette called A Goblin Party featuring guests cut out and colored from the Goblin Labels Collage Sheet.
What a fabulous setting fit for a bunch of mischievous little goblins! There's so much going on in such a small space — where should we begin?
Perhaps with the new Antique Bronze 3D Gnome House Charms that sit atop the pillars (that are really Black and White Chevron Striped Paper Straws!) that mark the entry to the feast (see the close-up in the lower right of the photos). Look out! Goblins are not known for their patience and if you're not careful, the goblins will jump onto your legs and start biting your ankles!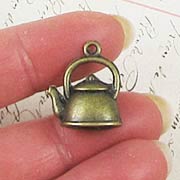 Hungry as they are, everyone knows that they must have their tea first! I'm sure the tea in the Miniature Tea Kettle Charm is piping hot, if not the goblins will go straight for the wine that they'll pour into wine glasses. Now I don't like to gossip (especially about goblins) but I heard that after they drink wine they let the beer flow into their frosty beer mugs and they dance like no one is watching. Quite naked. But I digress!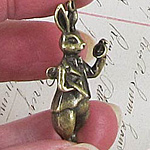 Laid out on the Miniature Table & Chairs Set are Red Glittered Holly Berries that make for a scrumptious array on a platter. Can you stand how perfect those cute Silver Cup Box Feet (as goblet) and the miniature silverware set are, sitting next to a Pewter Dollhouse Dish? And I love that gold covered serving tray (which is actually a Large Gold Star Filigree Bead Cap sitting on a 3/4 Inch Gold Star Filigree Base).
There are even Silver Pinecone Charms laid about the table for any furry friends who may stop by, but I'm pretty sure that if the White Rabbit (an amazing new Antique Bronze 3D Rabbit Charm) were to stop by in his never ending haste, he'd be more interested in sampling the tea before falling asleep on the Miniature Vine Bench.
Check out the list of components Nichola used, watch your ankles and head on over to Nichola's blog to see more pictures!


Posted by MizBella, October 30th, 2014