What a jam-packed newsletter! We're ping-ponging from Halloween Zombies to Christmas Brownies — and check out the cute artwork from the recent Black Bird Swap, hosted by Caroline Ouzts-Hay in the Gallery! (And the preview at right is by Sue Van Landingham!)
Reminder: Because of the new Tim Holtz tag from Thursday's Newsletter, I've put the ENTIRE Tim Holtz Products Section On Sale! Over 300 products (and that includes a couple New Christmas items below)! Catch 'em quick 'cause the sale ends TODAY, Sunday, October 12th!

How sweet, Teri Calia is sharing pictures of her family with us today!
To show off her adorable, My Creepy Relatives, Teri created 2 New Collage Sheets: Creepy Cabinet Cards and Spooky Cabinet Cards. (And since the Halloween Sale is still going on, both are On Sale!) Teri used the Black Resin Gothic Halloween Frame Set with background papers from the Spooky 12×12 Collection Kit for each photo. It is so lovely that Teri would want to share her family with all of us.
"There's Cousin Phaedra who's a bit of a clothes horse… just look at her hat and fur. She wouldn't be caught dead without them." Hee!
I happen to know that Phaedra's perfectly applied red lipstick is drawn on with Copic Sketch Marker – Lipstick Red.
Feel free to peruse Teri's Supply List before you join Teri for a cup tea and family gossip over at her blog.


Next we have a delightful Christmas Brownie Plaque by Design Team Coordinator Miz Bella (Kim Ayers). Bella says: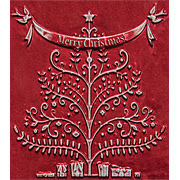 I embossed the New! Spellbinders Embossing Folder – Merry Christmas image using the Vintaj Silver Foil Sheets, then cut the image out. Laid image on a craft mat and then used the Vintaj Patina in Aged Bronze over it (from the Metal Patinas – Ancient Coin set), rubbing it around with my finger. Used a paper towel to remove some of the excess patina and then after it fully dried I used the Metal Reliefing Block over the raised part of image.
Then I decorated the embossed tree with images from the Holiday Brownies Rubber Stamp Set (including one Brownie riding an Oh Deer Resin Charm!), Miniature Pinecone Picks and Platinum Stickles.

Too cute! Hey, speaking of Brownies, don't forget there are quite a few of them in the Goblin Labels Collage Sheet from the October Goblins Kit. And Lora Mahaffey made good use of those Brownies on her project from last Thursday's Newsletter (see photo at right).
AND, don't forget there's still a FREE Gift kit available: Ghoulish Green Bead & Charms — and check today's Giveaway (below) for a bunch of new items put on Clearance Sale!


Hooray for the Ghosts & Zombies Giveaway!
I started with some items from Teri's My Creepy Relatives (that's a link to the supply list with links and photos):
– Creepy Cabinet Cards Collage Sheet
– 2mm Rhinestone Chain – Topaz
– Metal Flowers (Roses)
– Metal Flowers (Roses) – 15mm Gold
– Metal Flowers (Roses) – 6mm Gold
– Perched Owl Buttons
Then, a few related ghosts or zombies (or Back in Stock or related to the roses Teri used!) that caught my eye:
– Spooky Cabinet Cards Collage Sheet
– Small Paper Mache House
– Metal Flowers (Roses) – 6mm Bronze
– Ghost Charms
– Zombie Charms
– Spooky Ghost Buttons
– Ceramic Ghost Bead
AND, I added all of these goodies that have just been added to the Clearance Sale:
– Mango Orange Seam Binding
– Periwinkle Seam Binding
– 3 Inch White Cube Boxes
– Striped Kraft Envelopes – Red
– Striped Kraft Envelopes – White
– ATC Size Kraft Envelopes
– Printed Kraft Envelopes Set
(And since the ENTIRE Halloween Theme is On Sale!, pretty much all of the Giveaway items are On Sale!, too!)
To enter the Ghosts & Zombies Giveaway drawing all you have to do is leave a comment BELOW on this blog post TODAY, TOMORROW OR TUESDAY (the deadline is 11:59 pm PST, MONDAY NIGHT, October 13, 2014).
Don't forget to leave your (hello! correct) email address, too, so I can contact the winner; your email address does not need to be made public. Note: I'm offering free shipping, too, but only within the USA. International shipping will still apply.
Please be patient! Spammers try to post crap here a lot so comments are moderated. So if you don't see your post in the comments section, be patient and check back in a few hours before re-posting it, please!
After midnight, I'll randomly pick the winners (via Random.org). So make sure to check back to see who won! And check your mailbox on Thursday morning for the next Giveaway and Newsletter!
Hey, who won the Goblins & Brownies Giveaway? That would be Carmen Willis! Please check your email for my message about getting your mailing address.
Posted by Leslie, October 12th, 2014