A brief intro before I hand this newsletter off to Miz Bella (Kim Ayers) (to tell you all about that clever goblin project by Design Team Member Lora Mahaffey shown in the large photo below). (And note: today's Giveaway (farther below) is all about Lora's goblin project!)
We're now at the tenth "Tag of the Month" that Tim Holtz has made for 2014: A colorful Halloween Tag using lots of the New Distress Spray Stains and a simple masked texture technique. So I've just put his ENTIRE supplies list On Sale! And here's his detailed October Tag Tutorial.
Did I say On Sale!? Because of the new Tim Holtz tag and a big bunch of New Christmas Items by Tim Holtz (note: pics of the new goodies are below), I've put the ENTIRE Tim Holtz Products Section On Sale! Over 300 products! Catch 'em quick 'cause the sale will end this Sunday, October 12th!


The Design Team Member with a knack for cackle and mischief herself, Lora Mahaffey has created Eeek! Goblins! Ooooooh Goblins! Mischievous little creatures who love shiny things and can be a bit on the greedy side. Hmm. Sounds like I'm describing little children, doesn't it? Anyways…
This is a set of Goblin plaques that Lora designed with the Goblin Labels Collage Sheet from the October Goblins Kit.
Each piece has either a 1 Inch or a 1-1/2 Inch Wooden Cube Block attached to the back, with the backs painted black so they would all look cohesive and sort of disappear. Lora says:
"The block is there for two reason… one is to be support for a flat piece, but the other is so that you can stack and change the pieces into lots of different configurations."
When you get bored with one way it's displayed you can mix it up and display it another way. So very clever the Mischiefmeister is!
Lora drew house templates on graph paper and then cut them out. Then she traced them onto 12×12 Chipboard, covering them with paper from the Arsenic and Lace 12×12 Collection Kit. After that, being Lora of course, she used a lot of Baroque Dresden Borders (my favorite black Dresden!) and also the Black Zig Zag Dresden Borders.
"I cut out the wee goblins from the Goblin Labels Collage Sheet, colored them with Copic markers and used foam tape to adhere them. The foam tape also gave some dimension to the little buggers."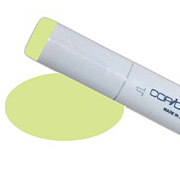 Well I think the little buggers are adorable, don't you? Speaking of Copic markers — we have the same colors that Lora used! New colors to choose from are Amethyst, Pumpkin Yellow, Salad, Anise, and Slate. I don't know about you, but I can't wait to add these new colors to my collection!
Here's a list of components that Lora used and after you get done creating mischief for yourself there, head on over to Lora's blog for more pictures and details.
Oh, how could I forget? There's a new FREE Gift Kit! Leslie pulled together a little Ghoulish Green Bead & Charm Gift Kit inspired by all those "31s" in Lora's artwork! Click on the photo at left for more info.


Hooray! A Goblins & Brownies Giveaway!
In addition to these goodies from Lora's Eeek! Goblins! (note: that's a link to the supply list with links and photos):
– October 2014 – Goblins Kit (which also includes a Black Baroque Dresden Border, like the ones Lora used)
– Arsenic and Lace Scrapbook Paper – Crow and Skull (the back side with the orange pattern shows in the photo)
– Creepy Chipboard Tree Cut-Outs
– Black Zig Zag Dresden Borders
– Bat Cut-Outs
– 12×12 Chipboard
– 1 Inch Wooden Cube Block
– 1-1/2 Inch Wooden Cube Block
I also included a Queer People Collage Sheet (for some more Brownies).
And a Ghoulish Green Bead & Charm Gift Kit!
To enter the Goblins & Brownies Giveaway drawing all you have to do is leave a comment BELOW on this blog post TODAY OR TOMORROW (the deadline is 11:59 pm PST, FRIDAY, October 10, 2014).
Don't forget to leave your (hello! correct) email address, too, so I can contact the winner; your email address does not need to be made public. Note: I'm offering free shipping, too, but only within the USA. International shipping will still apply.
Please be patient! Spammers try to post crap here a lot so comments are moderated. So if you don't see your post in the comments section, be patient and check back in a few hours before re-posting it, please!
After midnight, I'll randomly pick the winner (via Random.org). So check your mailbox on Sunday morning to see who won and for the next Giveaway and Newsletter!
Hey, who won the Goblins Kit Giveaway? That would be Sandy! Please check your email for my message about getting your mailing address.
Posted by Leslie, October 9th, 2014