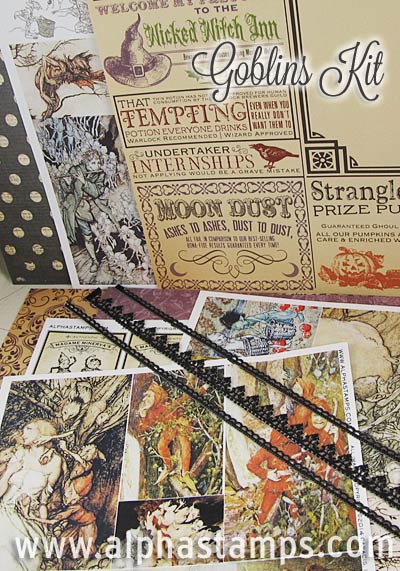 Our October kit is Goblins! This kit took a bit of a detour from "ghosts and goblins" to (just) "goblins." I found lots of images, from cute (like the adorable Brownies) to more sinister (though those ghosts may be lurking around for a future project). There are some trolls and dwarves mixed in, too. Plus the Brimstone Bulletin Scrapbook Paper (just one of four papers included in the kit) has some fun faux-vintage labels like "Prize Pumpkins… grown with care & enriched with goblin spit."
I'm including FOUR collage sheets in the kit (and all are On Sale! in case you'd like to buy them separately):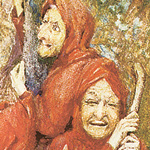 New! Goblins Collage Sheet (A nice mix of styles here, from impish to a little creepy. And some of these are used in Design Team Member Kristin Batsel's Gravestones and Goblins artwork shown below.)
New! Green Goblins Collage Sheet (Not all green, but those green guys at the top, all reaching and grasping, have lots of collage art possibilities.)
New! Goblin Trees Collage Sheet (From the trees themselves being fairly creepy to scary creatures in the trees (and a whole flock of little goblin imps… following the Pied Piper? I don't remember that part of the story).)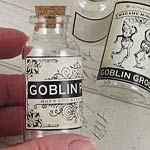 New! Goblin Labels Collage Sheet (Oh my, just look at those cuties! Labels for either Goblin Grog or Goblin Potions. And note the tiny text on the larger labels ("Don't you want what they had?" and "When you need time to hide").)
The largest labels are approx. 2-1/8″ x 3-1/2″ (with a bit of trim on the sides, they could be a background for an ATC or they perfectly fit the width of a Medium Manila Tag). Also shown in the small photo with 2″ Glass Bottles.

The kit also includes four full-size sheets of New and On Sale! Scrapbook Paper (see below for photos, and/or more photos on the Goblins Kit Page):
– Brimstone Bulletin Scrapbook Paper
– Brimstone Damask Scrapbook Paper
– Arsenic and Lace Scrapbook Paper – Floral
– Double Dot Chevron Scrapbook Paper – Charcoal
And check out the Gravestones and Goblins (at left) by Kristin Batsel! I love the goblins draped around the gravestones, and the little touches like the tiny bits of moss "growing" on the stonework. Read more on Kristin's blog (including tips on cutting the little niches in the tops of the paper mache tombstones). And here's a link to Kristin's Supply List.
Today's Giveaway includes the new kit and a few goodies used in Kristin's artwork! More info below.
And, in honor of this month's theme, I've extended the Halloween Sale through October 26th!
– The ENTIRE Halloween Theme Section (And that also includes the scrapbook papers in the kit, plus a huge group of charms),
– The ENTIRE Halloween Collage Sheets Section (And that also includes the FOUR new collage sheets in the kit!),
– The ENTIRE Halloween Rubber Stamps Section (Including a new set shown below!)
And don't forget: last Thursday we announced a Ornate Frame & Keys FREE Gift Kit. FREE for all orders over $20 through Wednesday, October 8th (more info an a photo are below).

New Items also in the Kit

ALL On Sale!

Even More New Halloween Goodies ALL On Sale! Just a taste… View all the New Items



Hooray for the Goblins Kit Giveaway!

Wow! In addition to a Goblins Kit…

I've also included a few items Kristin used in her artwork shown above (Psst! all of these are On Sale!):
– Paper Mache Tombstones Set
– Plastic Skeleton
– Pumpkin Pods
– Resin Skull Beads
– All Hallows Eve Potions & Alphabet Stickers New!
– White Turquoise Skull Beads

And a couple more NEW things that were calling out to me:
– Black 3D Candelabra
– Gargoyle Pendant – Brass Oxide

And my bottle samples using the New! Goblin Labels Collage Sheet:
– 1-1/2 Inch Glass Bottle
– 2 Inch Glass Bottles

To enter the Goblins Kit Giveaway drawing all you have to do is leave a comment BELOW on this blog post TODAY, TOMORROW OR TUESDAY (the deadline is 11:59 pm PST, TUESDAY NIGHT, October 7, 2014 — per requests I've added an extra day).

Don't forget to leave your (hello! correct) email address, too, so I can contact the winner; your email address does not need to be made public. Note: I'm offering free shipping, too, but only within the USA. International shipping will still apply.

Please be patient! Spammers try to post crap here a lot so comments are moderated. So if you don't see your post in the comments section, be patient and check back in a few hours before re-posting it, please!

After midnight, I'll randomly pick the winners (via Random.org). So make sure to check back to see who won! And check your mailbox on Thursday morning for the next Giveaway and Newsletter!

Hey, who won the Griffins & Book Spines & Bats (oh, my) Giveaway? That would be Kay H! Please check your email for my message about getting your mailing address.

Posted by Leslie, October 5th, 2014