Wow. Before I hand off this intro to Miz Bella (Kim Ayers), I just have to say: Wow. Design Team Member Laura Carson has outdone herself (and if you follow this newsletter you know that is no mean feat).

Laura Carson told me that she really didn't create anything big this year for Halloween. Really? I thought the Coffin Apothecary was a pretty big undertaking. (Of course, pun intended.) Well, have yourself a look at The House of Poe — it's so tiny you may need a microscope to see it! (Note: that's only about half of the scene inside the house shown at right… and she also decorate the outside of the house.)
It seems, dear Readers that Laura told a story on me and by the time I am through trying to point out everything I'm sure that I will be quite mad and finally be forced to room with Baby Jane. As always with Laura's fantabulous creations — where does one start?!
The House of Poe is Laura's ode to Edgar Allan Poe, Master of the Macabre. Within the larger piece are smaller items that could be stand alone pieces or part of a larger project. Being the generous artist that she is, Laura will show you how to not only make the house, but also how to make a clock from a matchbox, a table & desk from a Blank Altoid Tin, a bookcase coffin, a working hourglass and other bits and bobs.
I am not going to tell you how Laura made things because that would be a ginormous blog post (and it would spoil Laura's fun.) However, if I may help focus your glazed-over eyeballs onto a few things it may be easier for you to get acclimated to the wonderment of The House of Poe.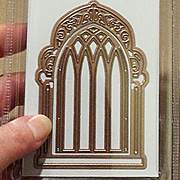 The main part of the house is created from the Paper Mache House Accordion Shrine. Oooohh, isn't that black, ornate, window beautiful? Most perfect for keeping out nosey neighbors who keep hearing the pitter-patter of a dead man's heart, trying to find out where the sound is coming from. The window is cut from the New and On Sale! Arched Window Die Set. They almost look like they're metal, don't they? Those legs on the amazing table made from a Blank Altoid Tin really aren't "legs." Well, they're not legs until you put them together a la Laura style, and they're made out of Resin Gables (see the little close-up photo at right). So clever!
Oh and see the small, round table with the ornate top? The top is actually one of the New! Santos Doll Halos. The package comes with 6 different halos so you could make all sorts of fun stuff with them. I just love the Antique Bronze Talon Pendant that is holding an Eyeball Bead. To give the eyeball a blood shot appearance, Laura painted veins on the eye with acrylic paint. Oh no! I told you how Laura made something. Well buttuh my butt, and call me a biscuit.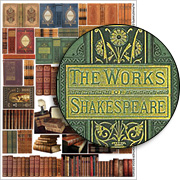 My favorite part of the whole piece, aside from the fact that it is an amazing ode to Poe, is the coffin bookcase! Laura simply reduced her template from the previous Coffin Apothecary project to create the the bookcase. (Which naturally, Laura provides for you!) The book case is filled with books and other creepy decor. The books are just a facade made from the New! Antique Leather Book Spines Collage Sheet. What a handy sheet, especially if you don' have the time to make Tiny Books.
Don't bother with a quoth from the Raven if you'd like to look at Laura's supply list, and remember to carry your cranium as you head on over to her blog to see the tutorial and more pictures of her awesome Ode to Poe.
Oh, how could I forget? There's a new FREE Gift Kit! Leslie pulled together a little (but covetable) set of an ornate pendant frame and 3 tiny keys that's inspired by Laura's artwork! Click on the photo at right for more info.


Hooray! A Griffins & Book Spines & Bats (oh, my) Giveaway!
Pretty much everything in this Giveaway is drawn from the (amazing) supply list from Laura's House of Poe (note: that's a link to the supply list with links and photos).
First, we have the NEW items:
– Antique Leather Book Spines Collage Sheet
– Brass Winged Griffins
– Silver Swirly Connector Charm
– Santos Doll Halos
Then a few (!) more items also from Laura's supplies:
– Antique Bronze Talon Pendant
– Antique Silver Flying Bat Charm
– Bronze Bat Pendant
– Eyeball Beads – 18mm
– German Expressionist Horror Collage Sheet
– Lion Head Handle
– Little Library Collage Sheet
– Little Potions Collage Sheet
– Mini Inkwell Bottles
– Poe Cameos Collage Sheet
– Poe's Words Collage Sheet
– Resin Skull Beads
– Tiny Round Bottles
– Victorian Bats Collage Sheet
– White Turquoise Skull Bead
– Witchy Little Labels & Ephemera Collage Sheet
And these additional NEW items that I thought worked well with the theme:
– Bronze Closed Book Charm
– Death Note Book Charm
To enter the Griffins & Book Spines & Bats Giveaway drawing all you have to do is leave a comment BELOW on this blog post TODAY OR TOMORROW (the deadline is 11:59 pm PST, FRIDAY, October 3, 2014).
Don't forget to leave your (hello! correct) email address, too, so I can contact the winner; your email address does not need to be made public. Note: I'm offering free shipping, too, but only within the USA. International shipping will still apply.
Please be patient! Spammers try to post crap here a lot so comments are moderated. So if you don't see your post in the comments section, be patient and check back in a few hours before re-posting it, please!
After midnight, I'll randomly pick the winner (via Random.org). So check your mailbox on Sunday morning to see who won and for the next Giveaway and Newsletter!
Hey, who won the Poe Tombstones Giveaway? That would be Beverly M.! Please check your email for my message about getting your mailing address.
Posted by Leslie, October 2nd, 2014