I'm handing off the intro to Miz Bella (Kim Ayers) again! Then stay tuned for some new Halloween items, a FLASH SALE on Dollhouse Miniatures (!), a recap of Thursday's newsletter (which featured a lovely snowy scene by Miz Bella herself — and an adorable Christmas Charms FREE Gift Kit that's still available), and a NEW Giveaway!

Can you believe that we are winding down the month of Poe already? Seems like we just got the kits into our dark, gothic little hands and now we're just about done. However! We do have a couple of new items to show you that worked very well into the Poe theme.
For her project, Design Team Member Rhea Freitag started out with the New and On Sale! Mixed Media 5×5 Box that is a kraftboard altered art box includes a peek-a-boo window, magnetic closure and 6 coordinating cards.
The box is made from high-quality kraftboard and ready to decorate and is available in Black, Ivory and Kraft colors. Decisions, decisions… if you can't decide which one to get you could always go with the Ivory or Kraft and then paint it whatever color you like!
Using paper from the Edgar Allan Poe Kit made for the perfect background to the box. Lots of fun trims from the Edgar Allan Poe Add On Kit, such as the Black Sweeper Fringe made for perfect storm of texture. You know how much Rhea loves metal, so some pieces of square filigree were cut in half diagonally to make corners, and an ornate key was added, too.
You like those filigree corners — I can tell. Guess what? You could also use the New and On Sale! Filigree Corners Die Set along with A Gilded Life – Metallic Foil Pack to achieve faux metal corners if you don't feel like cutting actual filigree pieces. It would look pretty fabulous as well!
Fade into darkness and visit Rhea's blog for more pictures of her Poe Inspired Raven Box (and/or see everything in Rhea Supply List).

Next we have TWO fabulous creations from Teri Calia in the classic Halloween palette of black and orange. First is an Edgar Allan Poe Gravestone Triptych. A couple of my most favorite things: Edgar Allan Poe AND gravestones! Teri used New and On Sale! Paper Mache Tombstones Set (that **I** had no idea were coming in until I saw the finished pictures!) The set comes with 3 different tombstone shapes, each approx. 6″ tall x 3-1/2″ wide x 1″ thick. Tons of possibilities with the set!
Teri added the niche to the middle gravestone using the same basic technique that she used to add the shelves to the Step Into My Parlour triptych and the little books are the same ones Teri showed you how to make in her Tiny Little Book Tutorial. Teri covered the tombstones with paper from New and On Sale! Spooky 12×12 Collection Kit . Teri says:
I love this collection. It's just the right weight and the designs are fresh and colorful.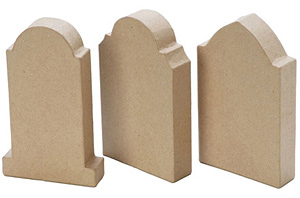 Teri may love the paper collection, but I love the way the Tim Holtz Paper Rosette Die is used as a background for the cameos/portraits on each tombstone (with the Black Mini Baroque Frames and Poe Cameos Collage Sheet) and how the Fern Garland pops against the triptych colors. Hey, and all 4 of those linked goodies are On Sale!
Here's a link to Teri's full Edgar Allan Poe Gravestone Triptych Supply List.
Next up from Teri is a Spirited Room Scene (see photos below) but if you ask me it's more like a scene from a wonky old Victorian lunatic asylum run by Beetlejuice. Which if you know my style at all, you know that is quite a compliment and I love it!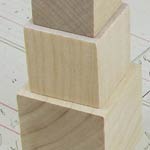 Teri covered a Large Wooden Theatre Base and a few small wooden cubes (1-1/4″ — plus the New 7/8″ and 1″ sizes), once again using the Spooky 12×12 Collection Kit. (And look at that frickin' adorable Ceramic Owl on top of that stack of blocks!) Teri spray painted a New and On Sale! Miniature Garden Bench black then hand-stitched some cushions for the bench. You won't believe this but the skeleton and the bat sign on the front are wonderful dimensional stickers! The skeleton is from the Party Skeletons Stickers set and the bat is from the Halloween Chalkboard Words Stickers set. Overall pretty snazzy, don't you think?
(Psst! And since ALL of these Halloween items are On Sale, that means those dimensional Halloween stickers are, too!
– The ENTIRE Halloween Theme Section
– The ENTIRE Halloween Collage Sheets Section
– The ENTIRE Halloween Rubber Stamps Section)
AND, since Teri used so many little 3D embellishments in both of her projects, Leslie put the ENTIRE Dollhouse Miniatures section On Sale (!) — but only through tomorrow night, Monday, September 29th.


Hooray for the Poe Tombstones Giveaway!
I've mixed up some goodies from both of Teri's projects shown above.
I started with these items from Teri's Edgar Allan Poe Gravestone Triptych (that's a link to the supply list with links and photos):
– Paper Mache Tombstones Set
– Poe Cameos Collage Sheet
– Poe's Words Collage Sheet
– Tiny Little Books Collage Sheet
– Ceramic Black Cat Bead
Then, a few more items, from Teri's Spirited Room Scene (that's also a link to the supply list with links and photos):
– Miniature Garden Bench
– 7/8 Inch Wooden Cube Block
– 1 Inch Wooden Cube Block
– 1-1/4 Inch Wooden Cube Block
– Party Skeletons Stickers
– Pumpkin Pods
– Ceramic Burnt Umber Owl Bead
(And since the ENTIRE Halloween Theme AND Dollhouse Miniatures Sections are On Sale!, pretty much all of the Giveaway items are On Sale!, too!)
To enter the Poe Tombstones Giveaway drawing all you have to do is leave a comment BELOW on this blog post TODAY or TOMORROW (the deadline is 11:59 pm PST, MONDAY NIGHT, September 29, 2014).
Don't forget to leave your (hello! correct) email address, too, so I can contact the winner; your email address does not need to be made public. Note: I'm offering free shipping, too, but only within the USA. International shipping will still apply.
Please be patient! Spammers try to post crap here a lot so comments are moderated. So if you don't see your post in the comments section, be patient and check back in a few hours before re-posting it, please!
After midnight, I'll randomly pick the winners (via Random.org). So make sure to check back to see who won! And check your mailbox on Thursday morning for the next Giveaway and Newsletter!
Hey, who won the Christmas Joy & Reindeer Giveaway? That would be Debbie Kaste! Please check your email for my message about getting your mailing address.
Posted by Leslie, September 28th, 2014