I was sad to hear of the death of Christopher Hogwood this morning. I often listen to Baroque music (and earlier) while working on the newsletters. Following the albums (yes, LPs) released by the Academy of Ancient Music was always such a joy (and a way to discover early music pre-internet).
On to brighter subjects… did you realize that since today is the 25th, it's exactly 3 months till Christmas? (Ok… that may strike fear into some of you instead of trying to lighten this intro.)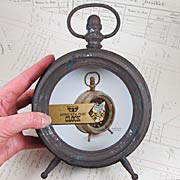 But Design Team Coordinator Miz Bella (Kim Ayers) has made such an adorable Christmas Clock (with a sleeping fawn among the glittering snow and holly… and those bright red cardinals on top), it's sure to make you happy.
Bella used the Altered Metal Frame – Clock as the base/structure for her artwork. Then added paper from the New and On Sale! Christmas Joy Scrapbook Papers and the New and On Sale! Miniature Lying Deer – Fawn. (And enough sparkly stickles and mica to cover your house!) Here's a link to her full Supply List. And see more photos on her blog post.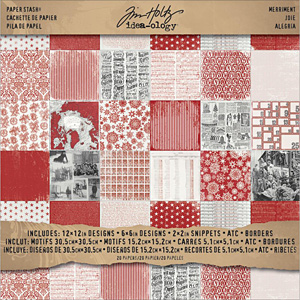 And speaking of new Christmas papers, we have 3 new Christmas items from Tim Holtz! I love all the red and white patterns in the Tim Holtz 12×12 Paper Stash – Merriment. So many options (and since they're repeated in multiple sizes, there's bound to be one at the scale you need). See below for another photo, and also photos of the related Tissue Tape Set and new Pine Twine Garland. And did I mention that all 3 are On Sale!

And, since we're winding down a whole month of Edgar Allan Poe projects, here's a new Poe Portrait by Design Team Member Nichola Battilana! As Nichola says,
"Take dear old Edgar. He's a creepy fellow, eerie tales and poems… at the same time, they tug at your heart and you can't help but like the fellow."
I'd say the same of her artwork. Here's Nichola's Supply List and see more photos on Nichola's blog.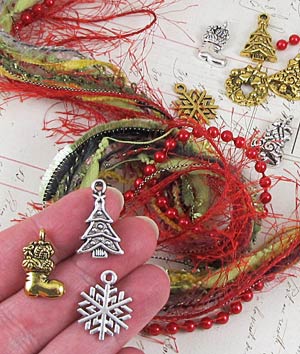 Oh, how could I forget? There's a new FREE Gift Kit! I've put together this little exclusive Alpha Stamps' mini kit containing a mix of all the charms in the New Gold and Silver Christmas Charm Sets! (Sorry, you won't receive every charm — it's a big group with 10 options — but I'm mixing up all the options so you'll receive a random set of 3 charms).
Plus, the kit contains a custom fiber mix that looks great with the charms — and with the New Christmas Joy Scrapbook Papers! (Hey, and that group includes a sheet of tags… perfect for adding a bit of this fiber mix to adorn a gift!) Click on the photo at right for more info.


Hooray! A Christmas Joy & Reindeer Giveaway!
In addition to these goodies from Bella's Christmas Clock (note: that's a link to the supply list with links and photos):
– Christmas Joy Scrapbook Paper – Reindeer
– Holly Berry Garland
– Lacquered Holly & Berry Picks
– Miniature Cardinal
– Miniature Pinecone Picks
– Miniature Lying Deer – Fawn
I also included the other four sheets from the new Christmas Joy Scrapbook Papers (so all 5 are included).
And these items just cuz I thought they looked good with the mix (and both are On Sale!):
– Santas Journey Holiday Gift Tags
– Holly Charms (I included 3)
Plus all of these items just put on Clearance Sale:
– Reindeer Holiday Dazzlers
– Gold Glitter Hemp Twine
– Christmas Stocking Buttons
– Gift Tag Buttons
And a Christmas Charms Gift Kit, but with all 10 of the charm options!
To enter the Christmas Joy & Reindeer Giveaway drawing all you have to do is leave a comment BELOW on this blog post TODAY OR TOMORROW (the deadline is 11:59 pm PST, FRIDAY, September 26, 2014).
Don't forget to leave your (hello! correct) email address, too, so I can contact the winner; your email address does not need to be made public. Note: I'm offering free shipping, too, but only within the USA. International shipping will still apply.
Please be patient! Spammers try to post crap here a lot so comments are moderated. So if you don't see your post in the comments section, be patient and check back in a few hours before re-posting it, please!
After midnight, I'll randomly pick the winner (via Random.org). So check your mailbox on Sunday morning to see who won and for the next Giveaway and Newsletter!
Hey, who won the Apothecary Bottles Giveaway!? That would be Judy Burris! Please check your email for my message about getting your mailing address.
Posted by Leslie, September 25th, 2014