Guess who is back from her Rolling Naked All Summer in Glitter World Tour with her offering for the Edgar Allan Poe Kit? It is Caroline Ouzts-Hay with Nevermore!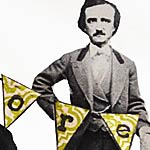 I love this piece — in fact I may have to make one for my mantle; or just hop on my broom and steal this one from Caroline. After all, she IS only one state over from me!
Caroline wrapped a wood block with the Arsenic and Lace Scrapbook Paper – Spooky Icons (available in the kit). Then she adhered a standing tall, Mr. Poe cut from the Just Poe Collage Sheet to one corner and attached her Black Chipboard Raven with a 1/8 Inch Wooden Dowel in the other corner.
The very same paper she wrapped the wood block with also (just the opposite side) was used to cover both the Raven and the banner background. Stamp each banner piece that you've cut out to spell Nevermore with the Antique Typewriter Mini Alphabet Set, add a few Resin Skull Beads and there you have it! A fabulous ode to Poe.
To see what else Caroline used and for more pictures fly on over to Caroline's blog.
Next is one of many Halloween offerings from "Hey watch me pull another amazing project out of my pocket" Laura Carson!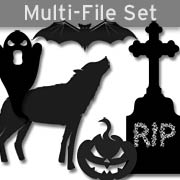 Laura has created Festive Halloween Votives and Candles AND a NEW Collage Sheet & Digital Image Set! Way easy for you to create and decorate your home with, or give out as hostess gifts for all of those wild Halloween parties in the suburbs you'll be attending. I have heard stories about parties at subdivisions around here, yes I have. I'd tell you what I've heard but you'd be so shocked you'd be frozen in place for days!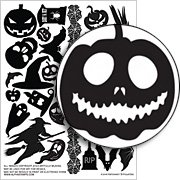 Since Alpha Stamps can produce our own sticker sheets from any of the Collage Sheets that we carry, Laura decided to make a Halloween Silhouettes Collage Sheet that would be easy to cut-out and would work fabulously for decorating things like the Votive Candle Holder – Glass, candles, bottles and as backgrounds for layered artwork. (And in case you want to take the images in some other direction or scale them up for really large projects, Laura also created a Halloween Silhouettes Digital Download Set.)
(Psst! And since ALL of these Halloween items are On Sale, that means the new collage sheet and digital set are, too!
– The ENTIRE Halloween Theme Section
– The ENTIRE Halloween Collage Sheets Section
– The ENTIRE Halloween Rubber Stamps Section)
Don't forget to add fun embellishments like the New and On Sale! Gothic Lace Black Border Stickers, 1/2 Inch Scalloped Black Lace, and Black Sweeper Fringe to your creations. Remember, details… it's all in the details!
Here's Laura's full Supply List. For more pictures and instructions on how to create your own spoooooky creations, saddle up your pumpkin and head on over to Laura's blog.


Hooray! A Halloween Votives & Poe Giveaway!
In addition to these goodies from Laura Halloween Votive Candles (note: that's a link to the supply list with links and photos):
– Halloween Silhouettes Collage Sheet
– Votive Candle Holder – Glass
– Egg Cups
– 3 Inch Tall Candlestick Holder
– 1/2 Inch Scalloped Black Lace
– Black Sweeper Fringe
– Spirited Labyrinth Scrapbook Paper
– Pumpkin Pods
– LED Tea Light
AND these goodies from Caroline's Nevermore:
– Arsenic and Lace Scrapbook Paper – Spooky Icons
– Just Poe Collage Sheet
– Resin Skull Beads
– Half-Round Dresden Borders – Black
– 1/8 Inch Wooden Dowels
– Black Chipboard Raven
I also included:
– A FULL SET of the Halloween Die Cuts (also featured in the Halloween Die Cuts FREE Gift Kit)
– A New and On Sale! Antique Bronze Talon Pendant with an
– 18mm Eyeball Bead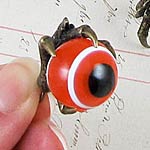 To enter the Halloween Votives & Poe Giveaway drawing all you have to do is leave a comment BELOW on this blog post TODAY OR TOMORROW (the deadline is 11:59 pm PST, FRIDAY, September 12, 2014).
Don't forget to leave your (hello! correct) email address, too, so I can contact the winner; your email address does not need to be made public. Note: I'm offering free shipping, too, but only within the USA. International shipping will still apply.
Please be patient! Spammers try to post crap here a lot so comments are moderated. So if you don't see your post in the comments section, be patient and check back in a few hours before re-posting it, please!
After midnight, I'll randomly pick the winner (via Random.org). So check your mailbox on Sunday morning to see who won and for the next Giveaway and Newsletter!
Hey, who won the Mourning for Poe Giveaway? That would be Daylan! Please check your email for my message about getting your mailing address.
Posted by MizBella, September 11th, 2014