Miz Bella here. I'm taking over this newsletter!
Well, well, well, what have we here? Could it be… a Witch's Parlour Triptych?! I do believe that Teri Calia has been peeking into my house, oh yes I do.
There's so much to take in with this — sorry but I don't think I can stick to any one particular part so hop on the back of my broom, hold on tight and come explore the Witch's Parlour with me!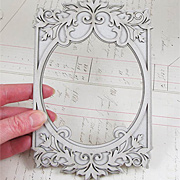 Teri applied all the trims to the base of an On Sale! Paper Mache Cathedral Triptych Shrine. The doors are already hinged together which makes it so easy to just start decorating.
Next, the outside has the gorgeous New and On Sale! Bordeaux Layered Chipboard Frame that Teri has cut in half (so the "doors" to the parlour can open) along with beautiful floral paper overlaid with a spider web that she created using Diamond Stickles. (See the web behind the orange roses in the lower right quadrant of that big photo?) I happen to know that Teri loooooooooves spiders so I'm not surprised that she included a fabulous little web.
Open the door and inside is a very neat and dust-free Witch's Parlour. (OK, that's where the similarities to my parlour stop!) Such lovely furniture and what-nots that any witchy-pooh would love to have on her shelves. Teri created not one but TWO new collage sheets that are full of inspiration to help you create your own perfect parlour. Witchy Little Labels & Ephemera and Step into my Parlour Collage Sheets are sure to get you rolling into Halloween!
(Psst! And since ALL of these Halloween items are On Sale, that means these two new collage sheets are, too!
– The ENTIRE Halloween Theme Section
– The ENTIRE Halloween Collage Sheets Section
– The ENTIRE Halloween Rubber Stamps Section)
Inside of the parlour Teri had a clever idea and cut up a few of the New! Large Paper Theatre Boxes to use as shelves for a built-in bookcase. (Plus, Teri had included a tutorial on how to make the bookcase!)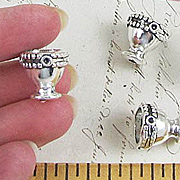 Now, you know I'm crazy. Crazy for miniatures! Look at the fabulous items on the shelves! Remember those On Sale! Miniature Glass Domes from a couple of weeks ago (with a preview of Teri's dome, with tiny PaperClay mushrooms inside)? Teri's little dome has found a home! Next to that fabulous little dome, is also one of the On Sale! Miniature Carving Knives… a bit bloody this time!
Speaking of cute, on the bottom shelf (right next to the glass dome) — see the little tiny goblet? That is actually a New and On Sale! Silver Cup Box Foot!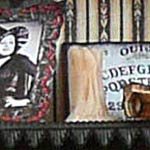 My new favorite items out of the whole group are the tiny labels (on both tiny glass bottles and on the Chipboard Apothecary Silhouettes on top of the bookcase), all from Teri's new Witchy Little Labels & Ephemera Collage Sheet. (And that fab little Ouija board and the scrolls next to it are also from the same collage sheet.)
If you'd like to go and visit the clever little witch personally, there are more details and pictures on Teri's blog. Don't forget to take your pet spider with you!
And here's a link to all the lovely supplies Teri used in her Witch's Parlour Triptych.
And, check below for some additional tiny dollhouse-sized lamps that Leslie just added that would be perfect for a parlour shadowbox, too! (And a bunch of those tiny, new things are included in today's Giveaway!)
And, look at the new Familiars FREE Collage Sheet that Leslie created with a few more (tiny) animal familiars to populate your own witch's parlour!


Hooray! A Witch's Parlour Giveaway!
In addition to these goodies from Teri's Witch's Parlour Triptych (note: that's a link to the supply list with links and photos):
– An Eerie Tale Enchantment Scrapbook Paper
– An Eerie Tale Gone Batty Scrapbook Paper
– Silver Cup Box Feet
– Step Into My Parlour Collage Sheet
– Witchy Little Labels & Ephemera Collage Sheet
– Large Paper Theatre Boxes
– Tiny Little Books Collage Sheet
– A Witchy Encore Collage Sheet
– Even Tinier Bottles
– Ceramic Ghost Bead (see the photo below at right… too cute!)
– Pumpkin Pods
– Fern Garland
I included:
– A New and On Sale! Miniature Candle Sconce
– A New and On Sale! Metal Crow Charm
– A set of Eyeball Beads – 10mm
And one of the New Familiars FREE Collage Sheets.
To enter the Witch's Parlour Giveaway drawing all you have to do is leave a comment BELOW on this blog post TODAY OR TOMORROW (the deadline is 11:59 pm PST, FRIDAY, September 5, 2014).
Don't forget to leave your (hello! correct) email address, too, so I can contact the winner; your email address does not need to be made public. Note: I'm offering free shipping, too, but only within the USA. International shipping will still apply.
Please be patient! Spammers try to post crap here a lot so comments are moderated. So if you don't see your post in the comments section, be patient and check back in a few hours before re-posting it, please!
After midnight, I'll randomly pick the winner (via Random.org). So check your mailbox on Sunday morning to see who won and for the next Giveaway and Newsletter!
Hey, who won the Edgar Allan Poe Kit Giveaway? That would be Anna! Please check your email for my message about getting your mailing address.

Posted by MizBella, September 4th, 2014