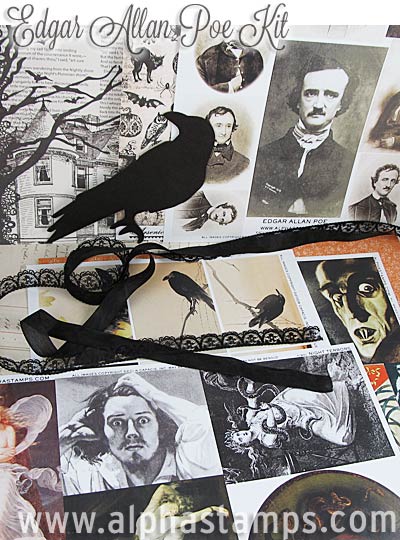 Oh, it's feeling more like Halloween now! Our September kit is Edgar Allan Poe — with an exclusive raven die-cut from black mat board. I've wandered a bit from the traditional images of Poe and I've also included two new collage sheets with a more general "horror" theme.
This kit started gestating about a month ago when I saw the Spirited Eerie Scrapbook Paper (which has the text to Poe's The Raven in the background). (See below for more info, as that paper is included in the kit.) And, of course, we already had quite a few Poe-themed collage sheets so that got me thinking about other icons/themes in Poe's works…
I'm including FOUR collage sheets in the kit (and all are On Sale! in case you'd like to buy them separately):
New! German Expressionist Horror Collage Sheet (Some of my favorite film images from Nosferatu to The Cabinet of Dr. Caligari… perfect for adding some fright to a Halloween collage.)
New! Night Terrors Collage Sheet (Crazy or scared or angry faces… from incubi to Medusa.)
Edgar Allan Poe Collage Sheet (Well, of course!)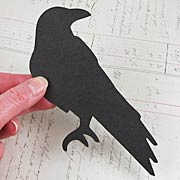 Woodblock Print Ravens Collage Sheet (A nice selection of raven prints. Good size for ATCs.)
The kit also includes:
– One of the New and On Sale! Black Chipboard Ravens! This exclusive black die-cut chipboard shape was designed to be large enough for a tag (it has enough space for you to collage onto — approx. 6″ tall) but small enough to be an ornament.
And, Design Team Member Caroline Ouzts-Hay is hosting a related swap using these new Black Chipboard Ravens! More info is in the Yahoo Group.
– Three full-size sheets of New and On Sale! Scrapbook Paper
– Spirited Eerie Scrapbook Paper
– Arsenic and Lace Scrapbook Paper – Crow and Skull
– Arsenic and Lace Scrapbook Paper – Spooky Icons
– And for a funereal feel: a yard of Black Seam Binding and a yard of black lace (that last is not available separately, but mimics the lace running up the side of the Spirited Eerie Scrapbook Paper).
And, as the Design Team often receives a wider group of products to play with around the monthly themes, I've gathered together everything they received (beyond what's in the regular September kit) and I've put together a Edgar Allan Poe Add-On Kit. So if you want more papers, collage sheets, and the New Gothic Tombstones ATC Bases, here's your chance to buy them with just one click.
And did you see that Edgar Allan Poe Shrine (at left) by Design Team Member Lora Mahaffey? It's fabulous! (And using 2 of the Black Chipboard Ravens kinda reminds me of Huginn & Muninn.) Read more on Lora's blog.
Today's Giveaway includes the new kit and the add-on kit! (Plus a few goodies used in Lora's artwork!) More info below.
And, in honor of this month's theme, I've put ALL of these sections On Sale!:
– The ENTIRE Halloween Theme Section (And that also includes the scrapbook papers in the kit, plus a huge group of charms),
– The ENTIRE Halloween Collage Sheets Section (And that also includes the FOUR collage sheets in the kit and all the collage sheets in the add-on kit, too!),

– The ENTIRE Halloween Rubber Stamps Section (Including some new Tim Holtz Halloween sets!)
And don't forget: last Thursday we announced a Fall Fish or Goodbye to Summer FREE Gift Kit. FREE for all orders over $20 through Wednesday, September 3rd.


Hooray for the Edgar Allan Poe Kit Giveaway!
Wow! In addition to an Edgar Allan Poe Kit
And an Edgar Allan Poe Add-On Kit
I've also included a few items Lora used in her artwork shown above:
– Double Dot Vintage Burnt Orange Scrapbook Paper
– An Eerie Tale Unsolved Mystery Scrapbook Paper
– Plastic Skeleton
– Candlestick Holder
– Pumpkin Pods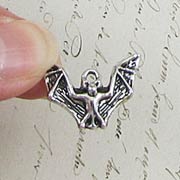 And a few new or back in stock things that were calling out to me:
– The Raven Collage Sheet Set
– Pewter Raven Charm
– Antique Silver Flying Bat Charm
– Bronze Bat Pendant
To enter the Edgar Allan Poe Kit Giveaway drawing all you have to do is leave a comment BELOW on this blog post TODAY, TOMORROW OR TUESDAY (the deadline is 11:59 pm PST, TUESDAY NIGHT, September 2, 2014 — an extra day in case you're travelling for the long holiday weekend).
Don't forget to leave your (hello! correct) email address, too, so I can contact the winner; your email address does not need to be made public. Note: I'm offering free shipping, too, but only within the USA. International shipping will still apply.
Please be patient! Spammers try to post crap here a lot so comments are moderated. So if you don't see your post in the comments section, be patient and check back in a few hours before re-posting it, please!
After midnight, I'll randomly pick the winners (via Random.org). So make sure to check back to see who won! And check your mailbox on Thursday morning for the next Giveaway and Newsletter!
Hey, who won the Tan & Red Riding Hood Giveaway? That would be Lori! Please check your email for my message about getting your mailing address.
Posted by Leslie, August 31st, 2014