Well, that was impressive! The earthquake this morning was a reminder of those North Bay Faults. I'm still picking up a few things (and one of the cats is yet to be seen) but we're all fine.
So, on to Miz Bella's
introduction to Laura's inspired Halloween take on Little Red Riding Hood. Then, beside the new goodies and a recap of the current FREE Gift Kit, there's a new Button Sale in honor of hte Halloween buttons in today's Giveaway.

Worthy of Grandma's hot buttered buns is Little Red Riding Hood with a Halloween Twist by Laura Carson!
Laura removed one of the panels from the Paper Mache House Accordion Shrine to make the base for Grandma's house. If you notice on the outside of the house there are stones covering the Red Music Scrapbook Paper and the Black French Script Scrapbook Paper from the Little Red Riding Hood Kit!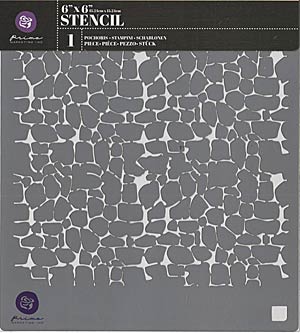 FAUX stones created using the Stone Wall Stencil and Texture Sand. (Better stock up on this — I think it's Laura's new favorite product!) The Texture Sand is what gives the delightfully decrepit, falling apart appearance to the "stonework." Hmm. My body must be made out of Texture Sand because it is also decrepit and falling apart as I am STILL sick after two weeks but I digress!!
To give Little Red Riding Hood more of a Halloween feel Laura used Creepy Chipboard Tree Cut-Outs on the front of the house, Dead Tree Cut-outs on the back of the house along with Resin Owls, Martha Stewart Halloween Glittered Bats and Moon Stickers and Small Plastic Pumpkins.
The fantabulous Laura has put together a lovely step-by-step tutorial that will take you through making your own Little Red Riding Hood Haunted Book. Don't have a small book to use? Guess what? She shows you how to make one! Seriously, I need to package that woman's energy. Before you go happily skipping off to hang out with Miz Crafty Carson, check out her Supply List.
OK, now you can take your buns on over to Laura's blog!


Hooray! It's A Twisty Halloween Giveaway!
I picked out these goodies in Laura's artwork (that's a link to photos of everything in her supply list):
– Little Red Riding Hood Kit
– Halloween Carnival #2 Collage Sheet
– Red Riding Hood #3 Collage Sheet
– The Wolf at the Door Collage Sheet
– Red Music Scrapbook Paper
– Tan & Red Music Scrapbook Paper
AND these SEVEN New and On Sale items:
– 4mm Beaded Chain – Orange and Black
– Skull Connectors
– Antique Bronze 3D Skeleton Hand Charm
– 3D Skull Charm – Bronze

– 3D Skull Charm – Silver
– Haunted House Clear Stamp
– Miniature Pumpkin
And, Four Halloween Buttons (Plus all buttons are on sale thru Friday, August 29th):
– a Dead Tree Button
– a Crescent Moon Button
– a Haunted House Button
– a Scaredy Cat Button
To enter the A Twisty Halloween Giveaway drawing all you have to do is leave a comment BELOW on this blog post TODAY OR TOMORROW (the deadline is 11:59 pm PST (that's Pacific Standard Time!!), MONDAY NIGHT, August 25, 2014).
Don't forget to leave your (hello! correct) email address, too, so I can contact the winner; your email address does not need to be made public. Note: I'm offering free shipping, too, but only within the USA. International shipping will still apply.
Please be patient! Spammers try to post crap here a lot so comments are moderated. So if you don't see your post in the comments section, be patient and check back in a few hours before re-posting it, please!
After midnight, I'll randomly pick the winners (via Random.org). So make sure to check back to see who won! And check your mailbox on Thursday morning for the next Giveaway and Newsletter!
Hey, who won the Bloody Red Riding Hood Giveaway? That would be Kathy Sorensen! Please check your email for my message about getting your mailing address.
Posted by Leslie, August 24th, 2014