There is so much to cover today! Beside three (3!) projects by Nichola Battilana (that Miz Bella will introduce) there are three Snarky Housewives projects by Kristin Batsel and Lora Mahaffey! (Plus a related Giveaway and a bunch of adorable miniature weapons… I mean kitchen implements…)
And (to make some tiny cookbooks, perhaps?) there are two (!) new collage sheets, by Teri Calia, plus a mini tutorial on how to make her miniature books!

Design Team Member Nichola Battilana is up with her spooky offering from the August 2014 – Little Red Riding Hood Kit called Through the Woods…
Poor Little Red Riding Hood. All out by her lonesome in the woods after dark where everything takes on such a sinister appearance! Nichola created her project around the Creepy Chipboard Tree Cut-Outs that like most of us here at Alpha Stamps, she loved at first sight. Also used was the Little Red Riding Hood Add-On Kit which you can get your own Creepy Chipboard Tree Cut-Out if you want to have (most) everything to play with that Nichola did. Add the 8×8 Matchbook Box and papers from An Eerie Tale to embellish it with.
Inside there's a sinister encounter between Little Red and the Big Bad Wolf using The Wolf At The Door Collage Sheet. Did you notice how the Mini Lantern with Battery Pack gives the scene an overall eerie effect? Loooovvee it!! Throw on some Sheet Moss to the outside, and you're on your way to your own awesome trip Through the Woods.
Before you lose your head like Grandma did you can check out Nichola's Supply List. Then throw on your hooded red cape and skip on over to see more pictures and details at Nichola's blog.
Nichola has finally given in and come to the dark side because not only do we have cookies, chocolate and Tequila, but we also have dies for her new Big Shot Die-Cutting Machine! The very first dies she she chose to use? Nichola chose the Movers & Shapers Base Die-House and Movers & Shapers Windows.
How cute are these tiny Halloween Houses?! I think they're adorable at only 4″ x 2″ x 2″ and just think how much fun you can have creating with them. Halloween houses with Black Mini Paper Blooms, Mini Red Pip Berry Garland and Tiny Green Leaf Garland like Nichola used, OR Christmas houses with glittered roofs, OR make your own miniature Red Light District with half-naked naughty women showing through the windows for Valentines Day! Or, just fill them up with candy and give them out as party favors.
Here is the full list of components Nichola used and you can visit her blog post as well.
Either Nichola never sleeps or she is just driving the over-achievers express this week. Take a look at her The Secret Garden altered tins that are inspired by the classic book by Frances Hodgson Burnett. Only four of these clever little tins have been made and each has a slightly different arrangement and selection of flowers, leaves and moss. My favorite element is the tiny little Robin that Nichola made from Creative Paperclay. It's so cute!
Why not make your very own Secret Garden tin? With a huge selection of Paper Flowers & Leaves, Garlands, Sheet Moss and of course the Blank Altoids Tin to get you started.
For more pictures and a few more details on Nichola's Secret Garden Tins, visit her blog.
Ok. Leslie taking over again. Do you remember that Snarky Housewives theme a few weeks ago? Those clever ladies, Kristin Batsel and Lora Mahaffey, are hosting a Snarky Housewives Swap over at Craftster & I've gathered some new mini kitchen props (and that cute Altoids Tin with Window at right). Sadly, you can't join the swap unless you've already been a Craftster member for 30 days (and I'm sure that some of you already are), but that won't stop you from creating some snarky tins (or magnets or plaques) of your own. (Omg… that plaque by Lora of Mildred, with the halo of knives and wine bottles is inspired!) More info and pics of Kristin's TWO tins is on her blog.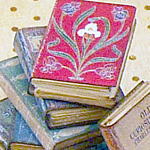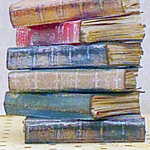 And Teri's new collage sheets and tutorial! I love how the little books look like antique tomes. And one of the sheets has tons of little cookbooks, so perfect timing with all these kitcheny things. (And did I mention that ALL 8 collage sheets — including these new ones by Teri! — with a kitchen theme are On Sale! See the Snarky Housewives Tins Giveaway below for more info.) Teri shares how to make the pages look aged and how to construct the books on her blog.


Hooray! A Snarky Housewives Tins Giveaway
A bit of this and that from both of the snarky projects shown above:
– Altoids Tins with Window
– Baking Border Strips Scrapbook Paper
– Miniature Copper Frying Pans
– Nan's Favourites: Lemon Slice Scrapbook Paper
– Miniature Baking Set
– Miniature Wine Bottles
– Miniature Carving Knives
A few more kitcheny things the caught my eye:
– Pewter Muffin Pans
– Gingerbread Man Charms – Brass Oxide
– Miniature Gingerbread Cookies
– Miniature Coffee Cup and Spoon
– Brass Tea Set
And, see the photo below on the left for Four of the 8 Sale Collage Sheets included in the Giveaway (and all are on sale through this Thursday, August 14th):
– Tiny Little Books Collage Sheet
– Domestic Little Books Collage Sheet
– Bitchy Words Collage Sheet
– Happy Vintage Housewives Collage Sheet
(Note: you can see the others in this Retro Kitchen group.)
Plus, SEVEN items just put on Clearance Sale (that's 80% off!):
– Light Blue Floral Crochet Trim
– Lightweight Silver Crowns
– Tiny Glass Spheres in Bottles – Turquoise (note: all the colors are on Clearance Sale)
– Rosarian Rambler Scrapbook Paper
– Rosarian Constance Scrapbook Paper
– Rosarian Old Garden Scrapbook Paper
– Chrysanthemum Scrapbook Paper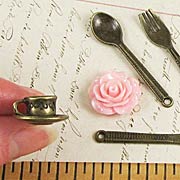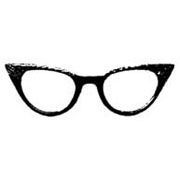 AND, these 4 that have just been put on sale for 50% off:
– Bette Davis Paper Dolls
– Eyeglasses Rubber Stamp
– Junque & Gems Tea Time
– Brass Flatware
(the 50% and 80% off things are shown in the photo below right)
To enter the Snarky Housewives Tins Giveaway drawing all you have to do is leave a comment BELOW on this blog post TODAY OR TOMORROW (the deadline is 11:59 pm PST (that's Pacific Standard Time!!), MONDAY NIGHT, August 11, 2014).
Don't forget to leave your (hello! correct) email address, too, so I can contact the winner; your email address does not need to be made public. Note: I'm offering free shipping, too, but only within the USA. International shipping will still apply.
Please be patient! Spammers try to post crap here a lot so comments are moderated. So if you don't see your post in the comments section, be patient and check back in a few hours before re-posting it, please!
After midnight, I'll randomly pick the winners (via Random.org). So make sure to check back to see who won! And check your mailbox on Thursday morning for the next Giveaway and Newsletter!
Hey, who won the Zombie Attack Giveaway? That would be Noreen! Please check your email for my message about getting your mailing address.

Posted by Leslie, August 10th, 2014