Note: most of the links on this post no longer work, as we moved to a new Web site in 2018. However, you can see the supply lists for Laura's projects on the new site:
Sells Floto Circus
and
Circus Carousel
.
I'm handing off the beginning of this newsletter to Miz Bella, to introduce Design Team Member Laura Carson's TWO amazing Circus Projects! Then stayed tuned, 'cause there are some beautiful new Tim Holtz stamps, dies, and embossing folders!
Continuing on with the July Theme and the July Kit: Cirque Paper Theatres is Laura Carson and her cirqualicious creations!
Even if clowns are a creep factor for you, I think you'll want to bring in the clowns with the Sells Floto Circus. Laura used the Small Paper Theatre Boxes as the base for each of her three linked theatres. Those are the same size chipboard boxes that come in the July Kit.
Personally, I can't decide which theatre I like the best. There is the middle one with naughty Punch just waiting for the clowns from the Clowns #1 Collage Sheet to come up the ladder so he can bonk them on the head (such a sweet scene!) with my favorite clown from Clowns #2 Collage Sheet looking on. (See the close-up at bottom right of the photo at right.)
Then there is the theatre with the circus performers riding and doing tricks on horse and zebra back! Notice the New and On Sale! Circus Acrobat Cut-Outs atop the two outer theatres? I love the all of the sparkly glitter on them as they swoop this way and that. I also like how Laura placed the center theatre on a 3 Inch Tall Candlestick Holder to give it some height (and to allow room for that red ladder… so cute and just made from 2 wooden skewers and toothpicks)!
Laura used images from a zillion Circus Collage Sheets in her 3-ring circus, but lucky for you, ALL of them are in the Giveaway that Leslie pulled… see more info below (including the announcement of who won the last Giveaway… AND some circus rubber stamps included in the drawing AND just put on sale)!
But wait, I am leaving the best for last… ready?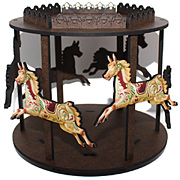 LOOK at the Circus Carousel that Laura made using the New and On Sale! 3D Carousel Shrine Kit! Not only it quite fabulous with it's fancy horses (that it comes with) but it also SPINS! (The spinning mechanism was added by Laura and is not included in the kit, but Laura explains it all on her blog post.)
Laura used the papers from the Anthem 6×6 Paper Pad to start the festivities. She also used the Circus Tent Collage Sheet (or Tents Digital Image Set), the Tiny Circus Collage Sheet and embellished the 3D Carousel Shrine with the Wide Scalloped Dresden Border Set.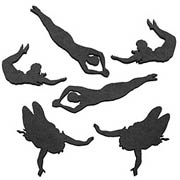 Hey, that Tents Digital Image Set and BOTH of the circus collage sheets mentioned in the last paragraph are On Sale! Note: The ENTIRE Digital Images Section is On Sale! And this Thursday, July 17th, will be the final day of the Circus/Clowns Collage Sheets Sale (and that whole section is on sale in honor of the July Circus Kit)!
Already thinking ahead, I can't wait to get my hands on one of the 3D Carousel Shrine Kits — don't you think it would make for a great spooky or haunted carousel theme?! You see, the Evil Queen hides new things like this from me if I am working on another project for her and many times I don't see them until they're ready to be presented to you. A magpie I am, going from one shiny object to another on any given day or time so I'm trying to stay focused here!
Here are Laura's Supply Lists: Sells Floto Circus and Circus Carousel, and you can see more pictures and details on how she created everything on her blog.
Note: last Thursday we announced a FREE Gift Kit, and that offer is still on: a Trick or Treat FREE Gift Kit is FREE for all orders over $15! More info and a photo are below.

Thursday Newsletter Recap: Cinderella, Tiny Books and Zombies?!


Don't Forget Thursday's Newsletter with some ridiculously cute Halloween Peg Dolls by Design Team Member Kristin Batsel!

Little Library Collage Sheet – New and Tiny Books to match!

Trick or Treat FREE Gift Kit
Three different scrapbook papers and a bit of sparkly sequins in orange, black, white, gold and purple (with bats, ghosts, stars & a jack-o-lantern).

Hooray! A Three-Ring Circus Giveaway!
EVERYTHING in Laura's Sells Floto Circus Supplies List is included in this Giveaway! There are 16 collage sheets (!) so I took 3 photos to show them all (see below).
Plus, these items beyond Laura's project:
– Circus Performers #1 Collage Sheet (wow… there's one she didn't use?)
– 4 Inch Gold Doilies
– Black & Gold Mini Cording
– 4mm Fused Pearls – Gold (now On Sale! at 50% off!)
– Four Masonite Horses (just like the ones in the Carousel Kit)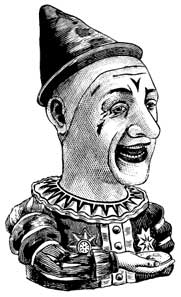 AND these 3 clown rubber stamps, just put 0n Sale at 50% off (only through THIS Thursday, July 17th — the same ending date as the Circus/Clowns Collage Sheets Sale):
– Coin Bank Clown Rubber Stamp
– Scary Clown Rubber Stamp
– You Will Be Surprised Rubber Stamp
To enter the Three-Ring Circus Giveaway drawing all you have to do is leave a comment BELOW on this blog post TODAY OR TOMORROW (the deadline is 11:59 pm PST (that's Pacific Standard Time!!), MONDAY NIGHT, July 14, 2014). (Happy Bastille Day!)
Don't forget to leave your (hello! correct) email address, too, so I can contact the winner; your email address does not need to be made public. Note: I'm offering free shipping, too, but only within the USA. International shipping will still apply.
Please be patient! Spammers try to post crap here a lot so comments are moderated. So if you don't see your post in the comments section, be patient and check back in a few hours before re-posting it, please!
After midnight, I'll randomly pick the winners (via Random.org). So make sure to check back to see who won! And check your mailbox on Thursday morning for the next Giveaway and Newsletter!
Hey, who won the Skulls and Tiny Books Giveaway? That would be Linda Isbell! Please check your email for my message about getting your mailing address.

Posted by Leslie, July 13th, 2014