Oh, my. What a lovely creation by Design Team Member Laura Carson! (And a whole series of them… see a photo below). And, thankfully, Laura has provided a video tutorial that walks us through the entire process of making these hinged paper eggs (with many embellishments). Don't be dismayed! When you see the video you'll see the entire process, step by step, and you'll feel confident to make your own hinged egg! (Or take that idea of hinging an egg with a "reveal" inside and applying it to an ATC or other small collage.)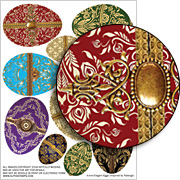 That tricky Laura: some of those embellishments on the red British Queen Egg, at far right, are not metal or Dresden (but images cut from her earlier Bejeweled Collage Sheet)! Laura explains how to add a bit of Glossy Accents to the "jewels" on the printed images to give them a bit of dimension and to catch the light like 3D jewels or rhinestones.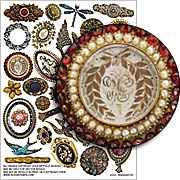 Laura designed TWO new collage sheets (and a set of digital downloads) so you'll have all the pieces need to reproduce her Elegant Eggs:
– Elegant Eggs Collage Sheet
– Elegant Eggs Set Download
– Bejeweled #2 Collage Sheet
(Psst… ALL 3 of those files AND the earlier Bejeweled Collage Sheet are On Sale! But those collage sheets are only on sale through Thursday, July 10th!)
Here's a bit from Laura's introduction:
About 5 years ago I was looking for different ways to add moving parts to ATCs. One of the ideas I came up with was to create an ATC that mimicked a Faberge Egg. The idea was to have an elegant front presentation that would open and reveal a treasure inside. In this tutorial I'll cover how to make Faberge like eggs that open in various ways.
Laura also made a (truly) 3D egg (using a Paper Mache 4 Inch Easter Egg as the base) and shows it being used as a fancy container/gift package for a perfume bottle (it's shown at the back of the group photo at left and also at right). And it also uses one of the (gorgeous!) New and On Sale! 20mm Rhinestone Flat-Back Setting as a fancy decoration/button. Those settings (and the New 25mm Clear Cabochon with Faceted Edges) are perfect for creating brooches, too.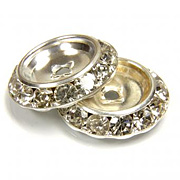 Check out the Supply Lists (yes, that's plural) before you head over to Laura's blog for the full tutorial (and I'd grab a cup of coffee and plan for a relaxing few minutes)! Here are the separate lists for the supplies for each egg (moving clockwise in the group photo):
– Red British Queen Egg
– Blue Marie Antoinette Egg
– Black & Gold Art Nouveau Egg
– Regency "Hummingbird" Egg
– Regency "Double Portrait" Egg
– 3D Paper Mache Egg
(Maybe that would make more sense in reverse… check out all the pretty eggs then pick out which one you'd like to buy supplies for.)
Changing gears: Oooh! Artwork from the Red White & Blue Ginormous Tags Swap is in the Gallery! Read more about the tag at right (by Laurie Davis) in the blog.
Hey, don't forget to scroll down for today's Giveaway! It includes elements from Laura's British Queen Egg plus some related items (and some contrasting items just put On Clearance Sale)! (And the announcement of who won the last Giveaway!)
Note: last Thursday we announced a FREE Gift Kit, and that offer is still on: a Sea & Shore Gift Kit is FREE for all orders over $20! More info and a photo are below.

Thursday Newsletter Recap: An Eerie Tale & Potter-ish Trunks by Nichola!


Don't Forget Thursday's Newsletter with the New Little Potions Collage Sheet by Nichola Battilana!

Tiny Round Bottles
New and On Sale!

Sea & Shore FREE Gift Kit
Four different scrapbook papers, an Antique Pewter Starfish Charm, and… TWO of SIX brand new, exclusive Mini Beach Collage Sheets (a mix of old and new images… retouched to coordinate with the papers in this kit)!

Hooray! A Elegant Eggs & Halloween Giveaway!
Ok… this one is a study in contrasts. In addition to all those calm, cool elements at right (from Laura's British Queen Egg — the one in her video), I also picked out some of the Halloween-themed items just added to the Clearance Sale (see the photo below at right).
This Giveaway also includes more related items:
– Bejeweled #2 Collage Sheet New and On Sale!
– Brass Shell Scroll (used on Laura's Paper Mache Egg)
– Brass Feathery Scroll Filigree Back in Stock and On Sale!
To enter the Elegant Eggs & Halloween Giveaway drawing all you have to do is leave a comment BELOW on this blog post TODAY OR TOMORROW (the deadline is 11:59 pm PST (that's Pacific Standard Time!!), MONDAY NIGHT, July 7, 2014).
Don't forget to leave your (hello! correct) email address, too, so I can contact the winner; your email address does not need to be made public. Note: I'm offering free shipping, too, but only within the USA. International shipping will still apply.
Please be patient! Spammers try to post crap here a lot so comments are moderated. So if you don't see your post in the comments section, be patient and check back in a few hours before re-posting it, please!
After midnight, I'll randomly pick the winners (via Random.org). So make sure to check back to see who won! And check your mailbox on Thursday morning for the next Giveaway and Newsletter!
Hey, who won the Sea Treasures Giveaway? That would be Holly M!
AND, who won Teri Steele's Fireworks Theatre? That would be Mary Toriello!
Both of you, please check your email for my message about getting your mailing address.

Posted by Leslie, July 6th, 2014