Lovely (and colorful!) artwork by Design Team Member Lora Mahaffey using the Paper Theatres Kit (with a few extra papers to turn her paper theatre into a magic show). Also in this newsletter: some beautiful new embossing folders with a sample showing one embossing the New and On Sale! A Gilded Life – Metallic Foil Pack; and two FREE offers!
Lora's The Great Escape is so fun! I love the depth (and all those contrasting orangy-yellows and royal blue). And the cute little feet she put on the Small Paper Theatre Box (made from 1 Inch Wide Wooden Finials), painting them blue and adding gold stars! Here's a link to Lora's supply list.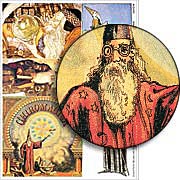 (Psst… more info on sale collage sheets from Lora's artwork is below (in the Giveaway section) but that Wizard Collage Sheet at right has just been put On Sale!)
And here's a snippet from Lora's blog post:
I love the big fancy magic shows that used to be put on in those beautiful, opulent old theatres and used that for my inspiration. This very grand looking wizard has managed to make a few balloons appear out of thin air and they've begun to escape the confines of the magic circle he has them trapped in and are now floating off into the theatre and the crowd.

Moving on… aren't those samples at left gorgeous!? Both that ivory-colored metal sheet at top and that rook wearing the crown at bottom left were embossed with the New and On Sale! Spellbinders Embossing Folder – Noble Rook! I love this ornate (and very sculptural… aka: 3D) embossing folder.
And more on the Metallic Foil Pack: the packs contain 12 sheets: four sheets of: Gold, Pewter and Ivory (metal-coated aluminum foils).
Note: these are heavier weight foil than the Vintaj Foil Sheets or Tim Holtz Metal Foil Tape Sheets (and these are not adhesive backed). They are still a metal foil (tooling foil weight), so I'd recommend filling in the depressed back side with molding putty before using on a book cover (so wear-and-tear won't smash your design flat).
But both of these new items (and some related, new embossing folders below) are just yummy!
Metallic Foil Pack and
Spellbinders Embossing Folder – Noble Rook.
Hey, don't forget to scroll down for today's Giveaway! It includes elements from Lora's artwork plus some related items (some just put On Sale)! (And the announcement of who won the last Giveaway!)
Note: last Thursday we announced a FREE Gift Kit, and that offer is still on: a Buttons and Shiny Beads FREE Gift Kit is FREE for all orders over $20! More info and a photo are below.


Hooray! An Alchemy Giveaway!
In addition to a June Paper Theatres Kit (!), this Giveaway has a mix of supplies from Lora's artwork and some random items I thought fit in with the theme:
– Vintage Ribbon Banners Collage Sheet (already On Sale as part of the Paper Theatres Collage Sheets Sale!)
– 1 Inch Wide Wooden Finials (the feet on Lora's little shrine)
– Pewter Moon with Star Charm
– Spell Book Button
– Man in the Moon – Raw Brass
– Hourglass Charm
– Palm Reading Hand Charm
AND 7 items just put On Sale!:
– Hot Air Balloons Collage Sheet (also in Lora's artwork)
– Wizard Collage Sheet (also in Lora's artwork)
– Alchemical Spheres Collage Sheet (also in Lora's artwork)
– Moon & Stars Collage Sheet
– Tiny Owl Stickers
– Wizard Button
– Hot Air Balloon Charm
Note: those collage sheets are on sale only through next Thursday, June 19th, which is also the final day of the Paper Theatres Collage Sheets Sale!
To enter the Alchemy Giveaway drawing all you have to do is leave a comment BELOW on this blog post TODAY OR TOMORROW (the deadline is 11:59 pm PST (that's Pacific Standard Time!!), MONDAY NIGHT, June 16, 2014).
Don't forget to leave your (hello! correct) email address, too, so I can contact the winner; your email address does not need to be made public. Note: I'm offering free shipping, too, but only within the USA. International shipping will still apply.
Please be patient! Spammers try to post crap here a lot so comments are moderated. So if you don't see your post in the comments section, be patient and check back in a few hours before re-posting it, please!
After midnight, I'll randomly pick the winner (via Random.org). So make sure to check back to see who won! And check your mailbox on Thursday morning for the next Giveaway and Newsletter!
Hey, who won Thursday's Alice & Housewives Giveaway? That would be Liz Russell! Please check your email for my message about getting your mailing address.

Posted by Leslie, June 15th, 2014