June is here and it's time to announce the new monthly theme and kit: Paper Theatres!
Ah… this one is near and dear to my heart! I started making paper theatres as a child. And collecting bits of vintage paper theatre prints as soon as I was able.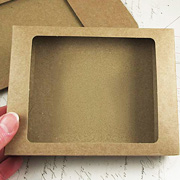 This kit started with some adorable (and affordable) chipboard shadowboxes I found (that are close enough in size to the glass-front boxes I used to carry that I was able to resize a couple of the paper theatre collage sheet images to fit — and add some new facades, too).
I designed FOUR new collage sheets with images sized for the New Small Paper Theatre Boxes, THREE of the new collage sheets are in the kit:
– Paper Theatre Francais Collage Sheet (with some hot air balloons, too)
– Paper Theatre Opera Houses Collage Sheet (love those box seats and orchestras)
– Toy Paper Theatres Collage Sheet (with some side curtains in multiple sizes and colors)
AND (just in time, I might add) I found the New and On Sale! Somewhere In Time 6×6 Paper Pads (with some lovely little brocade prints, perfect for "wallpapering" your theatre — inside or out)… and if you'd like to go in a Steampunk direction for your theatre, there are some gears and Victorian finery that could lend themselves to a Victorian theatre.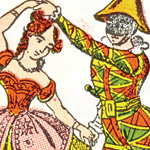 Since I'm supplying the shadowbox and the collage sheet images with the curtains or facades, you can make your theatre any theme you'd like! You could make an Animal Farm Theatre like the hysterical one Design Team Member Kristin Batsel made (see large photo at top right).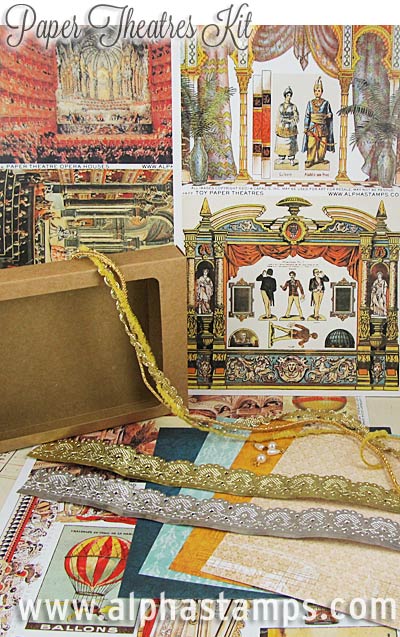 Or you could go with a Commedia theme (from the characters on the New! Paper Theatre Commedia Curtains Collage Sheet — Harlequin, Pierrot, etc.). Or… who knows? Marie Antoinette? Something else? I've got over 800 collage sheets, so there is probably something lurking out there that strikes your fancy.
Here's a link to Kristin's Supply List and head on over to the Gallery or Kristin's blog to see more pictures of her Animal Farm Theatre (plus a mini tutorial on how she used the New and On Sale! Martha Stewart Mini Score Board to make that cute, tiny pleated medallion at the top of her theatre).
Back to the kit, it also includes: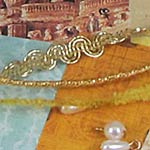 – 1 each of all 12 single-sided papers from the Somewhere In Time 6×6 Paper Pads!
– One of the chipboard Small Paper Theatre Boxes (more are available separately, plus an acetate insert window).
– A Wide Scalloped Dresden Border Set (with a bit of gold and silver)
To round out your kit there is also little sampler set of gold trims and 2 styles of pearl drops (shown in that little photo above… and you can see a larger photo on the kit page). And here's a list of all the kit items, also available to buy separately.
And, in honor of this month's theme, I've put the ENTIRE Paper Theatres Collage Sheets On Sale! (And that also includes the FOUR new collage sheets!) Catch it quick as the sale ends June 19th.
Beside more new goodies related to the theme, see below for info about today's Giveaway that includes one of the new kits and a bunch of related goodies (some from Kristin's artwork and some extras)!
And don't forget: last Thursday we announced a FREE Gift Kit, and that offer is still on: a Textures Gift Kit is FREE for all orders over $20! More info and a photo are below… and it looks a bit like the beginning of Halloween!


Hooray for the June Paper Theatres Kit Giveaway!
Wow! Not only is there a:
– New! Paper Theatres Kit
– and these additional items Design Team Member Kristin Batsel used in her Animal Farm Theatre:
– Gold Sweeper Fringe New and On Sale!
– Tiny Star Sequins On Sale!
– Antique Gold Scallop Shell Charms (see the photo at bottom left for all 3)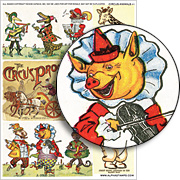 But also ALL 3 of the animal collage sheets Kristin used:
– Circus Animals #1 Collage Sheet
– Circus Animals #2 Collage Sheet
– Chicks and Roosters Collage Sheet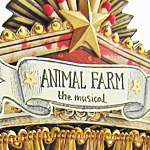 AND the Large Center Banner Rubber Stamp that Kristin used across the top of her theatre (that has just been put On Sale!)
AND 2 items just added to the Clearance Section:
– Tiny Trims Rub-Ons – Gold
– Dazzles Red Jewel Stickers
(see the photo at bottom right)
To enter the June Paper Theatres Kit Giveaway drawing all you have to do is leave a comment BELOW on this blog post TODAY OR TOMORROW (the deadline is 11:59 pm PST, MONDAY NIGHT, June 2, 2014).
Don't forget to leave your (hello! correct) email address, too, so I can contact the winner; your email address does not need to be made public. Note: I'm offering free shipping, too, but only within the USA. International shipping will still apply.
Please be patient! Spammers try to post crap here a lot so comments are moderated. So if you don't see your post in the comments section, be patient and check back in a few hours before re-posting it, please!
After midnight, I'll randomly pick the winner (via Random.org). So make sure to check back to see who won! And check your mailbox on Thursday morning for the next Giveaway and Newsletter!
Hey, who won the Vintage Lingerie Giveaway? That would be Joann West! Please check your email for my message about getting your mailing address.

Posted by Leslie, June 1st, 2014