Wow! Another jam-packed-with-artwork newsletter! We have projects by TWO talented designers (both involving wooden items… shrines or blocks), plus new items, and two FREE offers! I'll let Bella take the lead and introduce a fun project by Kristin Batsel.

Aaahh, Springtime in Paris. Perfect time for the eager tourist to take relaxing strolls to see the sight, smell the flowers and… hmm. Hard as you try to keep your friend Clarence occupied (who, by the way, invited himself on this trip), he's photobombing all of your pictures!
Design Team Member Kristin Batsel has created a delightful vignette of Parisian scenes using Wood Blocks with images on both sides (and the blocks can be rearranged).
This is a really easy and quick project to whip out. With all of the Alpha Stamps Collage Sheets, if you need a quick birthday present, hostess gift, baby shower gift, teacher's gift or perhaps — dare I say… make a set for yourself — there's A LOT to choose from. Don't believe me about how easy it is? If you can glue a piece of paper onto a surface then you can be an art block-making machine. Even if you can't: the Xyron 510 – Creative Station can apply adhesive for you, so no excuses!
On one side Kristin has adhered images from the Paris Postcards – Color Collage Sheet and our friendly photo-bomber comes from the Dapper Dudes Collage Sheet. Kristin posed Clarence every-which-way so that it appears he is trying his hardest to make sure he somehow is part of the picture. Hmm, now that I think about it, even at almost age 50 I still have friends like that… me, me, me! It's all about me because I'm so pretty so take MY picture! But I digress!
On the reverse side Kristin used paper from the Chalk Studio 2 6×6 Paper Pad, Jolie Gold Floral Scrapbook Paper, and the Jolie Red Feuille Leaves Scrapbook Paper. Then she layered images from the Easter Bonnets, Paris Collage and Paris Pendants – Half Sheet Collage Sheets. That's about it — told you it was easy! I just love being right.
Here's the link to Kristin's Supply List. And check out more images of Clarence and the art blocks on Kristin's blog.
Psst… Leslie taking over again. Before I introduce Teri Calia's project, I want to show off my own version of Kristin's block "grid" (or her arrangement of blocks in different sizes… that can be rearranged as you like). The photo at left shows a mix of blocks, include 3 of the New and On Sale! 1-1/4″ Wooden Cube Blocks (2 of these cubes are the same width as an ATB Wood Block). And there are actually 4 New and On Sale! Wooden Cubes, so you can stack them up like baby blocks or use them as feet under a shadowbox… or who knows what you'll come up with!


Next up, Teri Calia created that adorable Mouse House Shrine using the New and On Sale! Miniature Wooden Fire Place (with a New and On Sale! Wide Wooden Roof on top which turns the fireplace into a house)!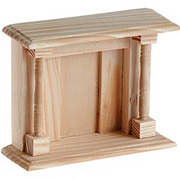 Teri used both the Miniature Wood Trim – Dotted and the Mitered Wooden Roof Trim (and that mitered trim fits the new wider roofs, too — sitting on the face of the roof, instead of sitting on top of the roof it was orignally designed for).
And I didn't even recognize them at first, but the trim that looks like ornate ribbon (across the bottom of the triangular roof and inside the "fireplace" area) is a printed border from a book cover on the A Apple Pie Collage Sheet.
Teri added some sweet buttons (and tiny mice) and the Lacquered Holly & Berry Picks, Mushrooms – Red and Tiny Paper Roses – Red White Variegated to finish the tight palette. And those last two items (and tons of the wooden things from both of today's projects) are included in today's Giveaway!
Note: last Thursday we announced a FREE Gift Kit, and that offer is still on: a Subtly French Mini Gift Kit is FREE for all orders over $20! More info and a photo are below.
And… with all these wooden blocks and roof/trim pieces: ALL the Game Pieces AND Wood Feet/Knobs/Roofs are On Sale! Plus, don't forget: in honor of the New Springtime in Paris Kit, the ENTIRE French Vintage Theme Section is On Sale (through May 22nd)!


Hooray! A Wood Shrines Giveaway!
I started with the scrapbook papers and collage sheets (and many of the wooden trims and blocks) mentioned above in the introduction, then added these items not used by Teri or Kristin:
– 1-1/2″ Wooden Cube Block (sitting on an ATB Wood Block, under the Red Mushrooms)
– Tiny Embossed Gold Dresden Borders
– Tiny Test Tube with Cork
– Mixed Pink Roses
And a tiny bouquet that Teri made (!), which includes:
– Iridescent Glass Spheres – 4mm
– Small Square Bottle with Corks
– Mini Rose Buds – Cream-Pink-Brown
To enter the Wood Shrines Giveaway drawing all you have to do is leave a comment BELOW on this blog post TODAY OR TOMORROW (the deadline is 11:59 pm PST, MONDAY NIGHT, May 12, 2014).
Don't forget to leave your (hello! correct) email address, too, so I can contact the winner; your email address does not need to be made public. Note: I'm offering free shipping, too, but only within the USA. International shipping will still apply.
Please be patient! Spammers try to post crap here a lot so comments are moderated. So if you don't see your post in the comments section, be patient and check back in a few hours before re-posting it, please!
After midnight, I'll randomly pick the winner (via Random.org). So make sure to check back to see who won! And check your mailbox on Thursday morning for the next Giveaway and Newsletter!
Hey, who won Thursday's Fairly French Giveaway? That would be Mary Mac! Please check your email for my message about getting your mailing address.
Posted by Leslie, May 11th, 2014