Note: most of the links on this post no longer work, as we moved to a new Web site in 2018. But you can try searching on the same names (as links below) on the new site.

May is here and it's time to announce the new monthly theme and kit: Springtime in Paris!
Oui, oui, it is Springtime mes petits choux! Can you think of a more beautiful place other than Paris in the Springtime? To get your Muse in the mood there are 2 stunning sheets of scrapbook paper in the kit from the Glamour & Grunge Collection: The Old World and Charmed Moments. (And there's also a third paper from this collection, plus some related embellishments, listed below.)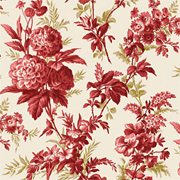 Also included is the Jolie Red Chrysanthemum Scrapbook Paper to add a big pop of color to your creations! (Ditto on more related Jolie papers below.)
Speaking of beautiful, the Springtime in Paris Kit includes 3 collage sheets. First is the New French Floral Overlays, with a big bunch of gorgeous French icons and vintage flourishy text… all collaged together to form a background or overlay.
Here's an idea! Run the cardstock version of the French Floral Overlays sheet through your die-cutting machine for instant tags or use the Movers & Shakers Base Die – Matchbox! Or you can also do what Design Team Member Rhea Freitag did: use the collage sheet as a transparency and lay it over the New Jolie Gold Floral Scrapbook Paper. Isn't the pattern of the paper showing through the the print of the transparency fabulous? Note: the version of this collage sheet in the kit is on transparency.
The second collage sheet is the New La Mode – Papillon. This is a lovely, layered collage of a collage sheet. And under all those colorful images is the background from the French Floral Overlays Collage Sheet (but in sepia on this sheet). Also includes some faux Parisian postage stamps with bees, butterflies and roses.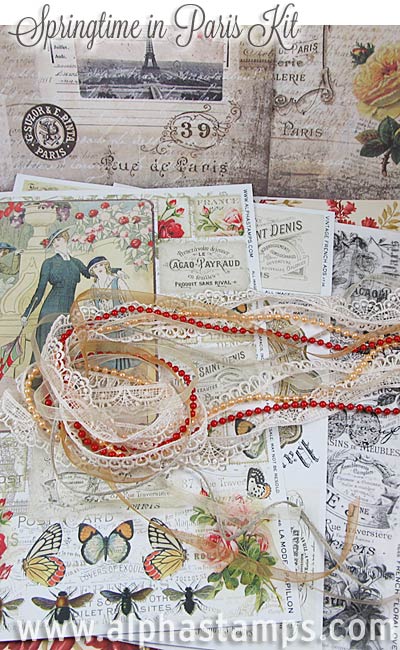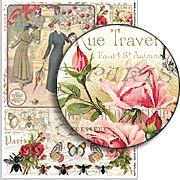 There is also a luscious set of lace and trims… including 2 New lace trims that Rhea used in a clever way: Rhea ran the 3/8 Inch Ivory Looped Lace and the 7/8 Inch Fancy Fan Ivory Lace throught the New and On Sale! Create-A-Sticker Machine! Looks pretty, doesn't it? Who wants to bother with trying not to get glue in all the wrong places on the back of lace when you can just run it through the machine!
Also used in Rhea's Springtime in Paris Book is the New and On Sale! 7 Gypsies – Collage Tissue – Paris which is vintage-inspired, printed tissue paper. See the flower next to the happy couple from the Tim Holtz Found Relative Cards? Rhea covered the tissue paper with ICE Resin to stiffen it (and make it more translucent) before running it through her die-cutting machine. In her book, Rhea made die-cut flowers from the tissue and they look like aged paper flowers next to the picture of the bride and groom (see the bottom page spread in the photo at the top of this page). Perhaps this was their honeymoon book, with mementos and keepsakes kept from when they started their life together. How romantic!!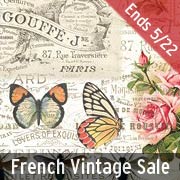 Grab a flower to sniff while you check out Rhea's supply list and then head on over to her blog or the Gallery to see more pictures of her Springtime in Paris Book.
And, in honor of this month's theme, I've put the ENTIRE French Vintage Theme Section On Sale! That's a HUGE section including charms, papers, rubber stamps, trims, dies and embossing folders, collage sheets (including the collage sheets and scrapbook papers in the kit!)… catch it quick as the sale ends May 22nd.
Beside more new goodies related to the theme, see below for info about today's Giveaway that includes a new kit and a bunch of related pretties!

More New Items in the Springtime in Paris Kit – All on Sale!

Hooray for the Springtime in Paris Kit Giveaway!
Wow! Not only is there a:
– New! Springtime in Paris Kit
– and ALL 3 of the Scrapbook Papers from the New and On Sale! Glamour & Grunge Collection
– and ALL 3 of the Scrapbook Papers from the New and On Sale! Jolie Collection
– and both of these additional collage sheets Design Team Member Rhea Freitag used in her Springtime in Paris Book:
– Paris Postcards – Color and
– Paris Collage (see below for more pics)
– but also BOTH of the On Sale Butterfly Dresden Scrap Sheets Rhea used
– the New and On Sale! Red Birdcage Scrapbook Paper
– the On Sale Monarch Cherish Varnished Scrapbook Paper (that Rhea so artfully recolored as some of the background pages in her book)
– an On Sale French Bee Rubber Stamp
– and a set of the On Sale Fleur de Lys Charms in antique gold!
To enter the Springtime in Paris Kit Giveaway drawing all you have to do is leave a comment BELOW on this blog post TODAY (the deadline is 11:59 pm PST, May 4, 2014).
Don't forget to leave your (hello! correct) email address, too, so I can contact the winner; your email address does not need to be made public. Note: I'm offering free shipping, too, but only within the USA. International shipping will still apply.
Please be patient! Spammers try to post crap here a lot so comments are moderated. So if you don't see your post in the comments section, be patient and check back in a few hours before re-posting it, please!
After midnight, I'll randomly pick the winner (via Random.org). So make sure to check back to see who won! And check your mailbox on Thursday morning for the next Giveaway and Newsletter!
Hey, who won the May Day Floral Giveaway? That would be Brenda Lubrant! Please check your email for my message about getting your mailing address.

Posted by Leslie, May 4th, 2014