Today you are in for a big shot of delight with creations by Design Team Member Jeanne Draachreider!
First up from Jeanne is this amazing Vacation Memory Box she created with the Vintage Voyage Kit that is based around the era of Edwardian fashions and the Titanic. Such a romantic time in our own minds, don't you think?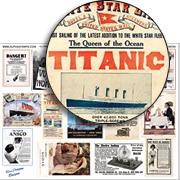 Jeanne's Vacation Memory Box is packed full of items that are sure to kick off your imagination and is a treasure trove of inspiration. Using an assortment of collage sheets that includes the New and On Sale! Titanic Era Songbook, Titanic Telegrams & Ephemera and the Titanic Era Ephemera Collage Sheets (all three designed by Jeanne!), she created ATCs, assorted booklets along with other fun little things tucked here and there within the box. More photos of Jeanne's artwork are in the Gallery.
With all of the artistic fabulousness that our team has been putting out, I am really starting to wonder if the Design Team Members ever sleep? But I digress!
There are so many things to love and adore in the Vacation Memory Box but I must say that I am partial to the ATC book that uses the On Sale! Wooden Album Covers. Why, you ask? Who knows; I just think it is beyond adorable! Imagine having been on a once-in-a-lifetime vacation way before the modern conveniences that we currently are obsessed with such as the internet and cell phones. Traveling here and there you make sure to carefully adhere your memorabilia onto sheets inside of a small, well loved little book that was then placed inside of a box that you decorated just for this occasion. What do you think you would find in there? Perhaps you should find out and create your own Vacation Memory Box… there are some New and On Sale! Tiny Sand Dollars (2 sizes shown below) that would be an adorable addition (and since the ENTIRE Beach Theme is on sale you have lots of beachy options to choose from — NOTE: the Beach Theme Sale ends THIS Sunday, April 13th).
Next up is the New and On Sale! Titanic Era Songbook Collage Sheet Jeanne created that makes an adorable (and tiny!) songbook! Now how stinking cute is this book? Don't go getting all scared to make this book — it is so easy to assemble I could probably train my imaginary pet monkey how to do it.
Do you know a Titanic buff or someone who is hard to buy for who needs the perfect present? Make one of these miniature books, and if you really want to go all out — punch a hole in the left-hand, top corner of the book and hang it from a chain or ribbon and it is now a necklace! Don't believe me about how simple this book is to put together? Here's a link to downloadable instructions (so you can see what's involved… and so you'll have the instructions once you have the sheet in hand).
But wait! There's more! Leslie also pulled together a new FREE Sand and Sea Gift Kit based on the colors in Jeanne's artwork!


Hooray! A Beach Memory Album Giveaway!
Nice! ALL of the TWELVE beachy collage sheets from Jeanne's artwork (psst… scroll down a little to see 2 photos, PLUS those collage sheets are also On Sale!), plus:
– Wooden Album Covers On Sale!
– ALL FOUR of the NEW Sand Dollars & Starfish New and On Sale!
– Distress Paints – Salty Ocean On Sale!
– Maritime Boussole Scrapbook Paper On Sale!
– Maritime Poisson Scrapbook Paper (love that little checkerboard pattern on the back) On Sale!
– Garment District Remnant Scrapbook Paper On Sale!
– Stationers Desk Red Romance Scrapbook Paper (really… that faded, distressed rose pattern on the back) On Sale!
AND one of the Sand and Sea Gift Kits!
To enter the Beach Memory Album Giveaway drawing all you have to do is leave a comment BELOW on this blog post TODAY (the deadline is 11:59 pm PST, April 10, 2014).
Don't forget to leave your (hello! correct) email address, too, so I can contact the winner; your email address does not need to be made public. Note: I'm offering free shipping, too, but only within the USA. International shipping will still apply.
Please be patient! Spammers try to post crap here a lot so comments are moderated. So if you don't see your post in the comments section, be patient and check back in a few hours before re-posting it, please!
After midnight, I'll randomly pick the winner (via Random.org). So make sure to check back to see who won! And check your mailbox on Sunday morning for the next Giveaway and Newsletter!
Hey, who won the Journey Journal Giveaway? That would be Ginger Benedict! Please check your email for my message about getting your mailing address.

Posted by MizBella, April 10th, 2014