Wow… this newsletter is filled with eye-candy, so I'd suggest you grab a cup of your favorite beverage and take a break (and with a video tour by Design Team Member Rhea Freitag, there's extra incentive to sit back and relax).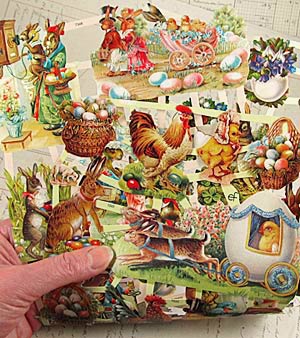 But before the artwork: we've created a new FREE Easter Bunnies Gift! (It is only 2 weeks till Easter, but I bet you'll want some of these cute rabbits (dancing, dining, driving cars and making telephone calls) for your art stash well past Easter.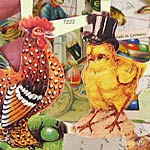 This FREE offer is a bit different from the free mini kits we've had recently. I bought a bunch of new Dresden scrap sheets from Germany (beautiful embossed and die-cut sheets — many with an Easter bunny theme). So I'll include one of the Easter sheets FREE for all orders over $20! AND, for orders over $50 you'll receive TWO different scrap sheets (note: I have a big bunch of samples, so you may not get 2 Easter sheets… the second sheet could be flowers, kittens, children, Santas… who knows what surprise you'll find in your package).
(Psst! The entire section of full-color Dresden scraps is On Sale, too!) More info is on the FREE Easter Bunnies Gift page.
Info on today's Journey Journal Giveaway (and a sale ending TODAY and new and back in stock items) is below. But first I'll hand over the reins to Design Team Coordinator Miz Bella (Kim Ayers) to introduce Rhea's beautiful Cartographer Journey Journal.

Design Team Member Rhea Freitag has created a fabulous book for you to gaze upon and gasp over with new items from Tim Holtz and Prima.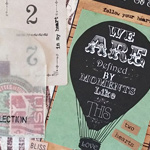 Since Rhea has created this, you know that there will be tons of goodies used and you will have to go back more than once to see everything she included on each page. I think that makes it much more fun and interesting, don't you?
Rhea started with the New and On Sale! Tim Holtz Large Worn Book Cover – Chronicle and added both stain and ink from the Vintage Photo Distress Ink & Stain Kit (then wet them so they bled a bit into the fabric on the cover).
She also worked lots of moving parts into the book (which I love!) like the Large Game Spinners on the cover.
Each page of Rhea's book is made with 12×12 Chipboard that she has cut down to size; sturdy enough to handle all of the embellishments that is used on each page. Who wouldn't want to layer it up with all of the fun items Rhea used? I LOVE the Cartographer Collection papers since they're so incredibly diverse. Create your own journal with them as Rhea did, or use in art journaling, mixed-media, postcards, mini-books… you get the idea!
The muted palette of the Cartographer Collection pairs well with the Tim Holtz Found Relatives Cards, the TWO New and On Sale! Ephemera Packs (Expedition and Thrift Shop), and Rhea's addition of the moody Vintage Paris Postcards Collage Sheet is just perfection.
Being the ah, "collector" of things (junk) that I am (OK hoarder!) my favorite part of Rhea's book is the inside back cover, filled with envelopes! Places to put even more stuff that needs to be pulled out and played with. I myself have spied upon the New and On Sale! Movers & Shapers Base Die – Pocket Envelope. How is it I do not have one of these in my collection? I really love putting things in little envelopes and now I can not only make the envelopes but with whatever paper I want?! Did you see the adorable Glassine Envelope? (With a New! Remnant Rub-On on top of it?!) I'm about ready to throw myself on the floor and have an absolute fit over the two of those items. I had just better go and order both of those for myself, but you hush now and don't go telling Slim Daddy that I'm ordering more stuff!
You can see Rhea's full Supply List. Visit Rhea's blog for more pictures and a video tour of her Cartographer Journey Journal!


Hooray! A Journey Journal Giveaway!
I love all the little pockets and glassine envelopes in Rhea's artwork, so this Giveaway is filled with envelopes!
Here are a bunch of the items Rhea used in her journal that are included in the Giveaway:
– Tim Holtz Large Worn Book Cover – Chronicle
– Gauges Collage Sheet
– Art Nouveau Exposition Collage Sheet
– Vintage Paris Postcards Collage Sheet
– Nirvana Typograph Scrapbook Paper
– Glassine Envelopes – 2-5/16 x 3-5/8 Inches
– Small Glassine Envelopes – Square
– ATC Size Kraft Envelopes
– Vintage Receipts – ATC Size
And here are a few more goodies not in Rhea's artwork:
– Hot Air Balloon Collage Sheet
– Cartographer Montgolfiere Scrapbook Paper (not technically in her artwork… though she used this paper from the 12×12 pad)
– Cartographer Marveilleux Scrapbook Paper
– Paris Postcards – Color Collage Sheet
– Small Glassine Envelopes – Horizontal Flaps
– Goggles Collage Sheet
– Attic Treasures Printed Envelopes (just put on sale!)
To enter the Journey Journal Giveaway drawing all you have to do is leave a comment BELOW on this blog post TODAY (the deadline is 11:59 pm PST, April 6, 2014).
Don't forget to leave your (hello! correct) email address, too, so I can contact the winner; your email address does not need to be made public. Note: I'm offering free shipping, too, but only within the USA. International shipping will still apply.
Please be patient! Spammers try to post crap here a lot so comments are moderated. So if you don't see your post in the comments section, be patient and check back in a few hours before re-posting it, please!
After midnight, I'll randomly pick the winner (via Random.org). So make sure to check back to see who won! And check your mailbox on Thursday morning for the next Giveaway and Newsletter!
Hey, who won Thursday's French Dancers Giveaway? That would be Kim (#117 in the comments… we had more than one "Kim" this week)! Please check your email for my message about getting your mailing address.

Posted by Leslie, April 6th, 2014