Wow! Design Team Member Laura Carson
has created a decorative and functional clock from a cigar box (and using the beautiful Being French images from two new collage sheets by Design Team Member Jeanne Draachreider)!
I'll borrow a bit from Laura's blog post by way of introduction:
After the great response I got on the cigar box chest project, I thought you might enjoy another
cigar box project that is both decorative and functional. In this tutorial, I'll show you how to
transform a cigar box into a working clock.
In the project example I decide to make the lid of the box the clock and the inside a scene.
There are so many options and possible themes with this project. Instead of having the clock
on the front you could have it inside the box. Instead of creating a scene inside the box you
could add matchboxes as drawers and use it to store your treasures. Last year I posted a
tutorial on how to make an ATC Armoire out of a cigar box. You could combine that project
and this so that the lid is the clock and the inside is the ATC storage area.
I love the "girl on a swing" (shown in the photo above — it's on the inside of the cigar box). And see below for the (gorgeous) new Madame Payraud 6×6 Paper Pack Laura used as background papers.
Here is Laura's Supply List; and visit her blog to see more pictures (and a full tutorial)!
Next up today, Design Team Coordinator Miz Bella (Kim Ayers) has created a flock of little birdhouses with the 3D Birdhouse Die!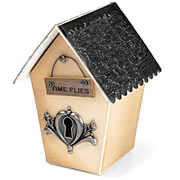 Those birdhouses are really tiny (approx. 2-3/4″ x 3-3/4″ x 2-3/8″) and have a sweet little scalloped edge to the roof.
And that little birdhouse at right uses one of the escutcheons from the New and On Sale! Tim Holtz Locket Keys as a fancy doorway for some lucky (and tiny!) bird.


Hooray! A French Dancers Giveaway!
Nice! Lots of the supplies from Laura's artwork, including:
– Clock Movement with Ornate Hands New and On Sale!
– Being French #1 Collage Sheet
– Being French #2 Collage Sheet
– Madame Payraud 6×6 Paper Pack New and On Sale!
– Tick Tock Collage Sheet
– Masonite Eiffel Tower Set
– Clock Face Buttons (tiny size)
– Chipboard Embellishments – Fancy Foliage
Plus some random items I thought matched the set:
– Mixed Gold Filigrees On Sale!
– Clock Face With Hole On Sale!
– Tiny Dancers Collage Sheet On Sale!
– AND some vintage clock parts from my own stash!
To enter the French Dancers Giveaway drawing all you have to do is leave a comment BELOW on this blog post TODAY (the deadline is 11:59 pm PST, April 3, 2014).
Don't forget to leave your (hello! correct) email address, too, so I can contact the winner; your email address does not need to be made public. Note: I'm offering free shipping, too, but only within the USA. International shipping will still apply.
Please be patient! Spammers try to post crap here a lot so comments are moderated. So if you don't see your post in the comments section, be patient and check back in a few hours before re-posting it, please!
After midnight, I'll randomly pick the winner (via Random.org). So make sure to check back to see who won! And check your mailbox on Sunday morning for the next Giveaway and Newsletter!
Hey, who won the April Vintage Voyage Kit Giveaway? That would be Linda Ellis! Please check your email for my message about getting your mailing address.
Posted by Leslie, April 3rd, 2014