Shannon Tuttle, Alaska, USA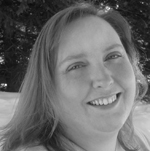 I am a graduate of the University of Alaska, Anchorage where I majored in Elementary Education. After deciding that teaching wasn't for me, I began my new career working as a legal secretary. Creativity has always been a part of my life and growing up my mom always made sure my sister and I were doing something artsy craftsy. She has been the major influence in my life as an artist and I wouldn't be here today without her continued love and support.
I began my "adult" artistic life as a seed beader which eventually led into wire and metal working (there is something therapeutic about texturing and forming metal), riveting , and my new passions of torch fired soldering, enameling, and fusing. In the middle of all this hammering and playing with fire, my mom introduced me to the world of rubber stamping and altered art and I haven't looked back since. I now mainly focus on mixed media and altered art, with a little assemblage and metal work thrown in on the side for fun.
This is my first design team experience. I am excited to start this journey with Alpha Stamps and look forward to the challenges it brings as well as the opportunity to grow as an artist.
Shannon's Blog
Posted by MizBella, March 30th, 2014