Oh my. Design Team Member Laura Carson made a ray gun to hang from the belt of her Steampunk Corset Dress! How cool is that. And she also artfully connected 2 sets of the Die-Cut Chipboard Corsets together with pieces of the Vintage Brass Butterflies and Filigree Set. Good thing she explains it all on her blog.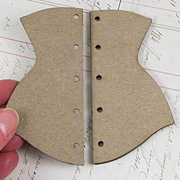 I know you'll want to get all the details, so here is Laura's supply list and Laura shares more photos and a tutorial on her blog. (And note: today's Giveaway (below) is all about Laura's steampunk dress!)

Moving on (too quickly but time is fleeting!) to the third "Tag of the Month" that Tim Holtz has made for 2014: A spring tag demontrating his "Smudge Stamping" technique that is also in his New and On Sale! Compendium of Curiosities – Volume III! And I love the new Distress Marker Spritzer Tool that he uses, too (also on sale). And there's a video of that tool in use (and, thankfully it can accommodate other markers) on his tutorial page.
Did I say On Sale!? Because of the new Tim Holtz tools and tag, I've put the ENTIRE Tim Holtz Products Section On Sale! Over 150 products! Catch 'em quick 'cause the sale will end this Thursday, March 27th! (And where has this month gone?)
And our second Design Team project today, also using parts from the French Corset Kit, is a pretty little plaque that Nichola Battilana calls A pretty pouty something!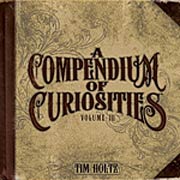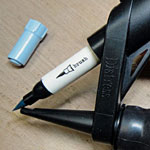 Read more about it on Nichola's blog. And here is Nichola's supply list.
And speaking of kits, the APRIL kits start shipping tomorrow (eek!) AND, today is the final day of the Victorian Collage Sheet Sale (related to the March Corset Kit's theme).
But before you run off to see Laura's tutorial or Nichola's blog post or Tim Holtz's tutorial, scroll down to see what's new, what's back in stock (a TON of Tim Holtz products, just in time for the sale!), what is in the FREE gift kit, and what's in today's Giveaway!


Hooray! A Steampunk Dress Giveaway!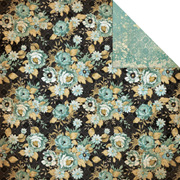 I love the colors in Laura's dress… and in the Giveaway! (I added in a bit more jade/patina green than Laura's artwork but I think it looks great with all those corroded metal colors.)
Beside pretty much everything in Laura's Steampunk Corset Dress (here's a reminder of her supply list), all these extra (14!) goodies are included: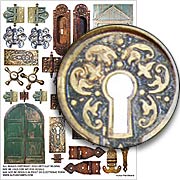 – Hardware Collage Sheet
– Tick Tock Collage Sheet
– Time Flies Collage Sheet
– Antique Brass Clock Charm
– Fairy Vial
– Halloween Fiber Set
– Steampunk Gear Mix

– Hanging Dungeon Lantern
– 75 Cents Penny Scrapbook Paper
– 75 Cents Sovereign Scrapbook Paper
– Sunshine in My Soul – Rays Scrapbook Paper (betcha didn't recognize that subtle grey-with-overprinted-pattern paper in the upper left of larger photo? that's the back side)
– Double Dot Vintage Chiffon Scrapbook Paper
– Double Dot Vintage Island Mist Scrapbook Paper
– Double Dot Vintage Shadow Scrapbook Paper
To enter the Steampunk Dress Giveaway drawing all you have to do is leave a comment BELOW on this blog post TODAY (the deadline is 11:59 pm PST, March 23, 2014).
Don't forget to leave your (hello! correct) email address, too, so I can contact the winner; your email address does not need to be made public. Note: I'm offering free shipping, too, but only within the USA. International shipping will still apply.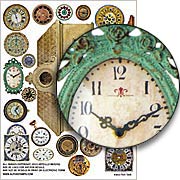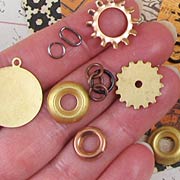 Please be patient! Spammers try to post crap here a lot so comments are moderated. So if you don't see your post in the comments section, be patient and check back in a few hours before re-posting it, please!
After midnight, I'll randomly pick the winner (via Random.org). So make sure to check back to see who won! And check your mailbox on Thursday morning for the next Giveaway and Newsletter!
Hey, who won Thursday's Spring Flower Sale Giveaway? That would be Jen R! Please check your email for my message about getting your mailing address.

Posted by Leslie, March 23rd, 2014