Wow! Lots of pretties to look at today. Projects by 2 more Design Team Members, and more new items arriving from the recent CHA show! (Plus some timely back in stock items, a FREE gift kit… and today's Giveaway!)
Oh my… isn't that Nichola Battilana a wonder! I'm swooning over her Odd Birds Book (and the poem she wrote that is scattered throughout the pages)! Using the simple (and back in stock and On Sale!) Small Paper Mache Book as the base, she collaged a sweet little book "In Praise of Odd Birds":
Cherish the odd birds
With their hedgehog plumes
Who sing wild songs
In quiet little rooms
And one of the New and On Sale! Ornate Metal Label Holders is so perfect as the title card holder on the front cover. If you're wondering what are all of those butterflies and birds and keys and trims woven into her narrative, here's a link to her supply list. And more photos and inspiration on Nichola's blog post (and in the Gallery). Plus, when you return, I've pulled together a little free gift based on the colors and themes in Nichola's book.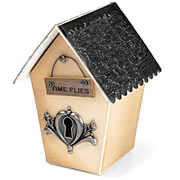 Next up: Design Team Member Shannon Tuttle used the New and On Sale! 3D Birdhouse Die (that makes adorably tiny birdhouses with a scalloped edge along the roof) to make a Marie Antoinette weathervane?! Oh, excuse me: Petit Oiseau Chambre de Marie. Hee! (And that brave Shannon! Shooting photos in the snow in Alaska!)
Here's a link to her supply list. Plus more info from Shannon on her blog post. (That a blog post and tutorial for how she made that embossed copper roof — gorgeous!)
But wait, there's more! I've got two more enticing bits of news before the new items (and today's Giveaway!)
First: today is the final day of the Birds Theme Sale AND the Lock, Key and Keyhole Charms Sale.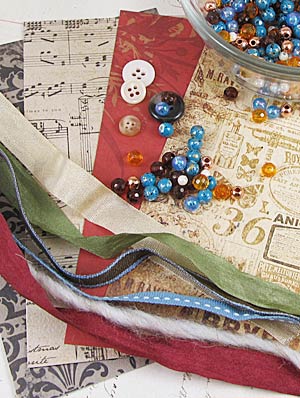 Second: After seeing Nichola's richly colored Odd Birds Book (with it's sweet ribbons and stamps and buttons that some birds stole away for their nests), I decided to make another little kit!
There are some On Sale! scrapbook papers in rustic hues with prints of sheet music, butterflies, foliage and bits of ephemera; and some buttons and beads (with some blue ones that could be tiny robin's eggs); plus some ribbons and a fuzzy yarn that would be perfect for forming a little nest.

This mini kit is FREE for all orders over $20! More info (and more photos) on the Odd Birds Book Gift Kit page.


Hooray! An Odd Birds Book Giveaway!
Wow! Miz Meghan pulled a ton of items from Nichola's Odd Birds Book (click that link for a reminder of the supply list), plus these extra goodies:
– Spanish Crowns Collage Sheet
– Family Photos Collage Sheet
– Miss Teagen Sue Collaged Alice Scrapbook Paper On Sale!
– Marie Antoinette Perfumes Scrapbook Paper On Sale!
– Curious Bird Seam Binding Set On Sale!
– Tan/Black Music Notes Twill Tape On Sale!
– Antique Brass Butterfly Charms
– Vintage Brass Butterflies and Filigree Set On Sale!
– A slew of keys from the Key Charms Sale!
– Large Brass Crown On Sale!
– Limited Edition Vintage Ephemera Sets (On Sale! and so fabulous I included another photo with me holding the contents of just one of these sets below — in the center photo)
To enter the Odd Birds Book Giveaway drawing all you have to do is leave a comment BELOW on this blog post TODAY (the deadline is 11:59 pm Pacific Standard Time, February 27, 2014).
Don't forget to leave your (hello! correct) email address, too, so I can contact the winner; your email address does not need to be made public. Note: I'm offering free shipping, too, but only within the USA. International shipping will still apply.
Please be patient! Spammers try to post crap here a lot so comments are moderated. So if you don't see your post in the comments section, be patient and check back in a few hours before re-posting it, please!
After midnight, I'll randomly pick the winner (via Random.org). So make sure to check back to see who won! And check your mailbox on Sunday morning for the next Giveaway and Newsletter!
Hey, who won the A Bird's Eye View Giveaway? That would be Sharon Barbera! Please check your email for my message about getting your mailing address.

Posted by Leslie, February 27th, 2014