So, it's almost Valentine's Day. But no new hearts on sale today.* Instead, how about flowers! We have some amazing new Wired Floral Garlands that just arrived. So I've put them and ALL of the Paper Flowers On Sale! (And that section includes other botanicals, too — like mushrooom and leaves.) But catch it quick — the sale ends on Wednesday, February 12th.
(*But the Valentine Collage Sheets and Rubber Stamps that are on sale in honor of the Lovesick — A Sweetheart Book Swap are still On Sale! through February 13th!)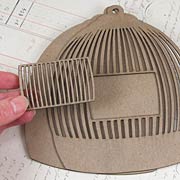 Design Team Member Laura Carson has a Valentine for you, too! Look at that sweet Love Birds Cage Dress, cleverly using a bird cage for the skirt — and that bird cage is On Sale! as the ENTIRE Die-Cut Chipboard section is still on sale (through Wednesday) per the theme of last Thursday's Newsletter.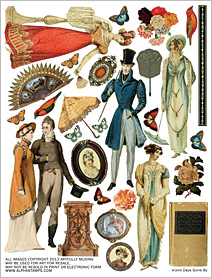 And another sweet from Laura: her New! Days Gone By Collage Sheet (and BIG digital images set)! Such a useful sheet! With costumed characters plus birds, butterflies, fans, a parasol, flowers, and framed portraits. And even more coordinating people and props are on the related digital set.
Look at the adorable Forever Yours and Days Gone By ATCs Laura made with the new collage sheet! (And those are just two of three ATCs Laura created!) The colors work beautifully with the birds and papers in the current kit: An Odd Bird. More photos of all the ATCs and the Love Birds Cage Dress are in the Gallery.
Laura has graciously posted a tutorial (and her own Giveaway) for the Love Birds Cage Dress. I love the hinged inset door on the bird cage skirt — and the entire skirt is also hinged (with a scene underneath that you can see just a bit of through the inset door). Plus Laura shows how to make the parasol from 2 copies of the fan from the new collage sheet.
But before you become entranced by Laura's tutorials (Yes, that's plural! Click that photo at right for a separate "Design Your Own Stick Pin" tutorial), scroll down to see what's new, what's back in stock, and what's in today's Giveaway!


Hooray! Days Gone By Love Birds Giveaway!
Miz Meghan gathered bits and (most of the) pieces Laura used in all of her artwork shown today! Tons of stuff, like:

– Days Gone By Collage Sheet
– Round 2-Part Die-Cut Chipboard Birdcage
– Looking Glass 6×6 Paper Pad
– Birds & Pink Blossoms Dresden Scraps
– Chipboard Leaf Flourishes
– Copper Dresden Border Sampler Set
– Curiosity – Intrigue Scrapbook Paper
– Parfumerie #2 Collage Sheet
– Vintage Brass Butterflies & Filigree Set
Here's the full list (with photos and links) of all the goodies in the Giveaway.
To enter the Days Gone By Love Birds Giveaway drawing all you have to do is leave a comment BELOW on this blog post TODAY or Monday (the deadline is 11:59 pm PST, February 10, 2014).
Don't forget to leave your (hello! correct) email address, too, so I can contact the winner; your email address does not need to be made public. Note: I'm offering free shipping, too, but only within the USA. International shipping will still apply.
Please be patient! Spammers try to post crap here a lot so comments are moderated. So if you don't see your post in the comments section, be patient and check back in a few hours before re-posting it, please!
After midnight, I'll randomly pick the winner (via Random.org). So make sure to check back to see who won! And check your mailbox on Thursday morning for the next Giveaway and Newsletter!
Hey, who won the Build Your Own Shrine Giveaway? That would be Willow! Please check your email for my message about getting your mailing address.

Posted by Leslie, February 9th, 2014