More birds! And a great little tutorial from Teri Calia, that has all kinds of possibilities for making shrines from any shape you'd like (of die-cut chipboard). I love how the shrine looks like a vintage candy box from the side!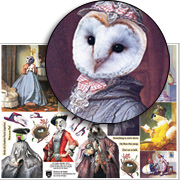 And look at those adorable bird-headed fashionistas on the New and On Sale! Oiseaux De Mode Collage Sheet! (Psst! It's on sale as part of the BIG Bird Theme Sale… related to the "An Odd Bird" swap; see the February Kit for more info.)
Beside the Robin Redbreast Shell Shrine at right, Teri also used the same technique with a heart shape (see the small photo below). And see more photos of that He Flew The Coop heart-shaped shrine in the Gallery. And… Teri is having a Giveaway of her own, for that lovely heart-shaped shrine!
And in honor of Teri's make-your-own shrine idea, I've put ALL of the Die-Cut Chipboard On Sale! (That's another BIG section of almost 100 items!)
Just think of all the shadowbox shrines you could make: Scallop Shell (like Teri's shrine) or Easter Egg or Pumpkin or Coffin! (And what about this Chipboard Birdhouse Book? It's got a hole already pre-cut in the front cover!)
And it's such a simple (and clever) idea to use a Tiny Paper Mache Box behind the cut-out window (to provide an instant shadowbox and to provide structure/strength for the whole piece). And an entire set of 6 of the Tiny Paper Mache Boxes is included in today's Giveaway!
Fly on over to Teri's blog for her Tutorial and Giveaway. (But don't forget to come back and enter the Giveaway here, too!)

February 8th Update:
The Build Your Own Shrine
Giveaway Winner is Willow!
Hooray! A Build Your Own Shrine Giveaway!
Miz Meghan picked out a nice group of items from both of Teri's shrines:
– An Odd Bird Inchies Collage Sheet
– A Black Resin Sparrow
– Black Pleated Ribbon
– Curiosity 12×12 Paper Pack
– Diamond Stickles
– Oiseaux de Mode Collage Sheet
– Petite Teastained Red Pansies and Leaves
– Remnant Rub-Ons – Numbers
– Bees, Birds and Butterflies Collage Sheet
– Tiny Paper Mache Box Set
– Mysterious Bird Cut-Outs
– 2 Die-Cut Chipboard Scallop Shells
– 12×12 Chipboard
– Some bits of Silk Ribbons
To enter the Build Your Own Shrine Giveaway drawing all you have to do is leave a comment BELOW on this blog post TODAY (the deadline is 11:59 pm Pacific Standard Time, February 6, 2014).
Don't forget to leave your (hello! correct) email address, too, so I can contact the winner; your email address does not need to be made public. Note: I'm offering free shipping, too, but only within the USA. International shipping will still apply.
Please be patient! Spammers try to post crap here a lot so comments are moderated. So if you don't see your post in the comments section, be patient and check back in a few hours before re-posting it, please!
After midnight, I'll randomly pick the winner (via Random.org). So make sure to check back to see who won! And check your mailbox on Sunday morning for the next Giveaway and Newsletter!
Hey, who won An Odd Bird Giveaway? That would be Roxanne! Please check your email for my message about getting your mailing address.
Posted by Leslie, February 6th, 2014