Note: most of the links on this post no longer work, as we moved to a new Web site in 2018. However, you can see the supply lists for Kristin's projects on the new site: Bird Lady Paper Doll and Flying Birds Altoids Tin.

Today's newsletter (and Giveaway!) were inspired by two projects by Design Team Member Kristin Batsel — both with birds flying/hovering about, suspended on wires.
Kristin started by creating the Bird Lady Paper Doll at left (with a lovely miss from the On Sale! The Lady In Blue Collage Sheet); and I loved the birds so much I asked her to write up a little tutorial.
Not only did she do that, but she also created the fun Flying Birds Altoids Tin using the New and On Sale! Bird Cage Collage Sheet!
The Bird Cage Collage Sheet has 9 cages, all sized to fit on Blank Altoids Tins. Plus quite a few birds to sit in or on the cages (most of the birds are perched… a few are flying).

Here's info on the supplies Kristin used on the Bird Lady Paper Doll and Flying Birds Altoids Tin (and you'll want to scope out all those goodies, 'cause they're all included in today's Giveaway!) And don't forget Kristin's tutorial.
But if you wander off to read the tutorial now, don't forget to return to see the stunning Key To My Heart Valentine Collection and to enter the Giveaway!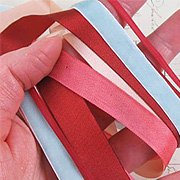 Oh my. And before I forget: in honor of the ongoing Lovesick – A Sweetheart Book Swap (and befitting Kristin's paper doll's skirt), I've put ALL the ribbon sections On Sale! Crazy — that's SIX sections. View them here: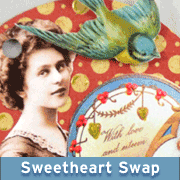 – Ribbons: Fringes/Fibers
– Ribbons: Patterned
– Ribbons: Sets
– Ribbons: Silk
– Ribbons: Solid
– Ribbons: Twills
(And that set shown at left is the Valentine Kit Ribbon Set.)
And I've decided to keep 2 of the sale sections from the While the Cat's Away Giveaways On Sale!, too: the Valentines & Romance Collage Sheets and the Cherubs/Hearts Rubber Stamps.

New Valentine Goodies – All on Sale! View All
Hooray! A
Bird Valentines Giveaway
! Beside all the supplies from
both
of Kristin's projects, I've added a few more things; here's a
link to all 24 items
!
Highlights of the additions (and all are On Sale!):
– New! Bird Valentines Collage Sheet
– Victorian Sentiment Collage Sheet
– Winged Cupid Collage Sheet
– Victorian Garden Collage Sheet
– Blue Birds Collage Sheet
(those 5, added to the collage sheets that Kristin used, equal a total of NINE collage sheets!)
– Valentines Bakers Twine
– Narrow Red Diamond Stitched Ribbon
– Pearl Aqua Seam Binding
– Iridescent Plastic Pearls (Strands)
To enter the Bird Valentines Giveaway drawing all you have to do is leave a comment below on this blog post TODAY (January 5, 2014) by midnight (Pacific Standard Time).
Don't forget to leave your (hello! correct) email address, too, so I can contact the winner; your email address does not need to be made public. Note: I'm offering free shipping, too, but only within the USA. International shipping will still apply.
Please be patient! Spammers try to post crap here a lot so comments are moderated. So if you don't see your post in the comments section, be patient and check back in a few hours before re-posting it, please!
After midnight, I'll randomly pick the winner (via Random.org). So make sure to check back tomorrow to see who won!
Hey, who won the Florals Giveaway? That would be Debbie Peysen!
Posted by Leslie, January 5th, 2014