There's still time to make a display for your holiday decorating, and similar to the Paper Mache House Accordion Shrine from the Black Friday Sale, there's a New and On Sale! Paper Mache Cathedral Triptych Shrine — with colorful artwork (and a tutorial!) by Design Team Member Laura Carson to inspire you!
The shrine is well made (like the metal hinges embedded in the paper mache). The panels can be cut into if you'd like to add a door or window. (But you can just leave well enough alone, and have some nice, big, flat areas to decorate.)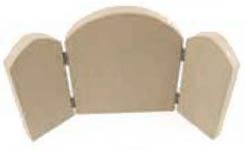 And Laura's tutorial shows not only how to cut into those panels, but how to measure your cut window to fit a specific printed frame, and how to use crumpled and torn tissue paper to provide texture!

And I love that turquoise (or copper patina) plus red and gold color palette — a nice variation on the normal red and green Christmas palette (and more color than angels often receive).
Beside the Angel Musicians, Winged Time and Verdigris Angels Collage Sheets (all On Sale! because I've just put the ENTIRE Angels and Saints Collage Sheets section on sale!), Laura used some new embellishments:
– Fancy Gold Dresden Medallion Set On Sale!
– Gold Instrument Ornaments On Sale!
– Peace Doves Chipboard Die-Cuts On Sale!
– Red Glittered Sprays On Sale!
– 1 Inch Mini Tassel – Red (new from Thursday's newsletter… more on that below)
Here's a link to her full Supply List and a repeat of the link to Laura's tutorial.
Wow! Hard to believe Teri Calia's Krampus Shrine uses the same paper mache shrine as the starting point! From the spiral sea shells as horns to the sculpted tongue … this is a Teri project all over! So whether you want to adorn your mantelpiece with angels, or frighten your children into behaving, you have eye candy to inspire you!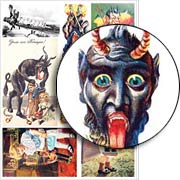 And that Krampus Collage Sheet is On Sale, too, as it's part of the BIG Christmas Collage Sheets Sale!
More info on other ongoing Christmas sale items by category or check the Sale section for individual sale items.

Posted by Leslie, December 8th, 2013