Note: most of the links on this post no longer work, as we moved to a new Web site in 2018. But you can try searching on the same names (as links below) on the new site.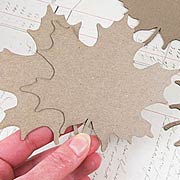 Adorable! Check out this Fuzzy Fall Squirrel Book that Design Team Member Kira Nichols made using the Maple Leaf Die-Cut Chipboard (also part of the Fall Foliage Kit) and images from the Squirrel Collage Sheets!
Here's a brief bit from Kira's blog post:
Squirrels, squirrels everywhere and not a pecan to be seen on any of my trees… Fuzzy little buggers.

Cute, even if they are pesky. I made this Fuzzy Fall Squirrel Book using Alpha Stamps products.

Feathers make a really good embellishment to put behind squirrel tails, because they're just so fuzzy and have great movement.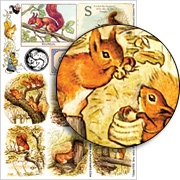 Note: a bunch of the items Kira used are currently On Sale! as part of the BIG Autumn Theme Sale!
You can find out more about the Fall Foliage Kit (and the related leaf swap) on the Kit page.
And more photos of Kira's book are in Kira's blog post.
Posted by Leslie, November 12th, 2013