Note: most of the links on this post no longer work, as we moved to a new Web site in 2018. But you can try searching on the same names (as links below) on the new site.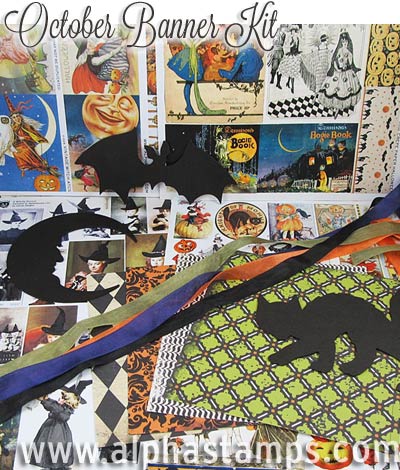 Oh, what a fun kit this is! And what colorful, creative banners and tags the Design Team have made!
Whether you want to participate in either swap (yes, two options) or you'd just like to make a festive banner to decorate your house for Halloween, the October Banner Kit is a great start.
The kit includes 4 collage sheets, a custom set of 6″ x 6″ papers, seam binding in coordinating colors, and three exclusive black die-cut chipboard shapes!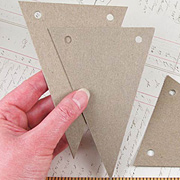 By the way, there are new triangular-shaped chipboard pennants, too (On Sale!) for a classic banner. That's why we decided on two swaps.
One swap will be using the larger size of the pennants (not too big: just 4″ x 6″) and the other swap will be using the black chipboard shapes (for an ornament swap — doesn't everyone have a Halloween tree?!)
Some of the Design Team Members even combined the two (and you can do the same if you decide to join both swaps — or if you add your own tags or pennants to the swap art you receive back in you only join one).
Ok, enough said; if you'd like more swap info (or to get more details on the goodies in the kit), visit the kit page. And now… on to the eye candy!
I couldn't decide amongst all Design Team artwork so below are teasers for 8! Click on any of them to find out who made what and what the entire piece looks like in the Gallery.
Psst! As almost everything mentioned in this newsletter is Halloween-themed, I've added them to the ongoing BIG Halloween Theme Sale! I'm going to give you enough time to buy your supplies for the swaps, but the Halloween sale will be ending in late October.

Posted by Leslie, September 29th, 2013