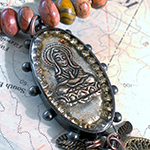 Design Team Member Rhea Freitag recently created some fabulous pieces that would look quite beautiful around your lovely necks!
Psst! There's a related Adorn Yourself Giveaway (click for more info).
Being the magpie that I am you won't be surprised to know that I adore this piece with the Rhinestone Chain and Quan Yin embedded in the pendant. Rhea talks about "faux mercury" in this piece. What?! Faux Mercury? Miz Rhea has some explaining to do because it is stunning!
Don't you love how Rhea layered pieces together? While it may look complicated at first glance, she used trinkets, charms (like that lovely set of Bronze Feathered Wings at right), filigree and Ice Resin to create her pretty focal points. If you click the picture to the far right you can see the gorgeousness of the entire piece and how Rhea layered her components. Be still my heart!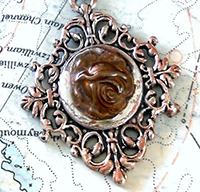 You know what I think would be so fabulous to use if you were to try to make your own baubles? With Halloween coming up don't you think that he New! Gravestone Charms would look awesome encased in Ice Resin and hung from some of the Rosary Chain. Perhaps you should step out of your comfort zone and try it, hmmm?
Get in the mood to make some of your own adornments and check out Rhea's blog post for more pictures and pieces to spank your eyeballs with.
And if you're seeing this on September 26th or 27th, there's a related Adorn Yourself Giveaway where you can win some of these components!
Posted by MizBella, September 26th, 2013