September has been a banner month for artwork from the Design Team. And today there's glittery gargoyle bunting by Nichola Battilana and some gorgeous faux mercury glass pendants by Rhea Freitag! (And although the projects are very different in theme, I've managed to pull together a Giveaway that not only includes goodies from both projects, but also has some new papers with spicy Autumn colors.)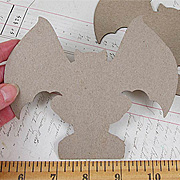 Here's an short introduction by Nichola for her bunting (using the On Sale! Gargoyle Front View Die-Cut Chipboard):
"Not everyone loves glitter, some people loath the stuff, but I do. I adore glitter. I put it on all possible things. My husband often leaves for work with tiny sparkles stuck to his cheek. It's a sickness really. As soon as I saw those gargoyle shapes I knew they were destined to be glammed. These weren't boring grey stone gargoyles, they were fancy French glittery gargoyles! If you want to add sparkle to your gargoyles I suggest painting a base colour as close as possible to your glitter colour. In doing this you can get away with using far less (leaving you more for other projects!). Also, be sure to paint both the front and back of your chipboard shapes to help avoid curling."
More photos of Nichola's glittery creation are in the Gallery.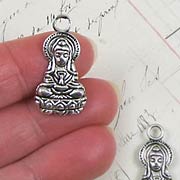 Then moving on to Rhea's amazing jewelry. (That woman is so talented!) Rhea created so many beautiful pieces (in a recent class she took) that Design Team Coordinator Miz Bella (Kim Ayers)
has written a whole blog post as an introduction.
I'll just briefly mention that I did include one of the On Sale! Antique Silver Quan Yin Charms (and a bit of rhinestone chain) in case you want to try your hand at the "Adorned Relic" shown at left.
And components from both of these art projects are included in today's Giveaway! See below for more details and how to enter the drawing. Plus, below the Giveaway info, there are some brightly-hued new papers, and some (long-missing) back in stock items.


Yay! An Adorn Yourself Giveaway! Actually, enough goodies here to make a bunting like Nichola's to adorn your house, too. And some jewelry/charm baubles if you'd like to adorn yourself:
Charms/Beads/Misc:
– Antique Pewter Oval Locket
– 25x18mm Resin Skeleton Woman Cameo
– Antique Brass Eiffel Tower Charms – Large
– Large Fleur de Lys with Loop On Sale!
– Antique Silver Quan Yin Charm On Sale!
– 2mm Rhinestone Chain – Topaz
– Bronze Feathered Wings
– White Turquoise Skull Beads On Sale!
– 5mm Yellow Eye Stickers On Sale!
– Mixed Flat Back Pearls
Paper:
– Double Dot Vintage Burnt Orange Scrapbook Paper New and On Sale!
– Double Dot Vintage Ocean Scrapbook Paper New and On Sale!
– Gargoyle Front View Die-Cut Chipboard On Sale!
– Happy Haunting – Eerie Brocade Scrapbook Paper On Sale!
– Thrilling – Antidote Bats Scrapbook Paper On Sale!
– Happy Haunting – Full Moon Scrapbook Paper On Sale!
– Halloween Cardstock Pack On Sale!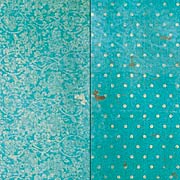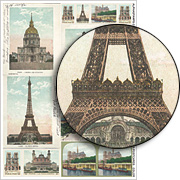 Collage Sheets:
– Paris Postcards – Color Collage Sheet
– Paris Post Collage Sheet
– Cemetery Collage Sheet On Sale!
– Halloween Words Collage Sheet On Sale!
Ribbons:
– Black Seam Binding On Sale!
– Cream Seam Binding
– Happy Halloween Twill Tape On Sale!
– Black and White Mini Gingham Check Ribbon On Sale!
– Noxious Fumes Fiber Set On Sale!
To enter the Adorn Yourself Giveaway drawing all you have to do is leave a comment below on this blog post by midnight, September 27, 2013 (Friday night PST).
Don't forget to leave your (hello! correct) email address, too, so I can contact the winner; your email address does not need to be made public. Note: I'm offering free shipping, too, but only within the USA. International shipping will still apply.
Please be patient! Spammers try to post crap here a lot so comments are moderated. So if you don't see your post in the comments section, be patient and check back in a few hours before re-posting it, please!
By Sunday morning's newsletter, I'll randomly pick the winner (via Random.org). So make sure to check back Sunday to see who won!

Posted by Leslie, September 26th, 2013