The almost, but not quite as naughty as myself, Miz Lora Mahaffey has created a wickedly delightful Halloween scene for you.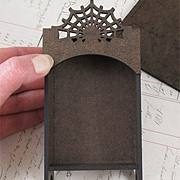 Now my pretties, before I grab my proverbial soap box and tell you all about this marvelous little creation, I must tell you that I can not be responsible for anything I observe or say in this post. You see, I've been under a great deal of stress lately (teenager for rent, inquire within!) and am currently not in complete control of my faculties. In addition I quite possibly may have had a glass of wine. Or two. But I digress!
Don't you love the mischievous look on the diabolical cherub at the top? He is practically daring you to look below at the image held within the On Sale! ATC Halloween Hutch. Ignore him for a second and take a look first at all the luscious Black Dresden Lora used. Black Dresden is one of my favorite things to hoard I must confess!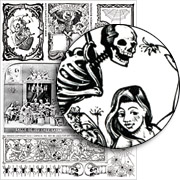 Now I know you can't stand it and you have to take a good look inside the hutch! Oh doesn't the Devil look quite smug in front of his desk? It is so clever how Lora used the hands from the On Sale! Plastic Skeletons and made them look as if they're begging to be picked for a dastardly duty. Now, oh my. WHAT is that in the Devil's lap? Is that the Devil's precious jewel? Or is it a bauble, merely covering his jewels because he is being modest? Certainly I'm not the only one who has jumped to that conclusion; now am I?
Miz Lora SWEARS (in more ways than one, I might add) that it was her intention to have the Devil, who was very carefully cut out of the On Sale! B&W Halloween Borders Collage Sheet to be holding a pumpkin.
Don't believe me? Humor Lora and catch a broom-ride on over to her blog and see for yourself!
But wait! Before you do, look down this post to see a related Giveaway you could win to create your own version of Lora's artwork!
Psst! More photos of Lora's shrine are in the Gallery. And here's a link to all of the other goodies she used.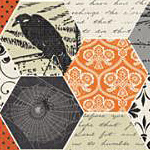 Hooray for the Halloween Hex Giveaway! (That's "Hex" like the Hexagons in the New and On Sale! Happy Haunting – Hex Scrapbook Paper!)
Beside the three New! items highlighted above, I've also included: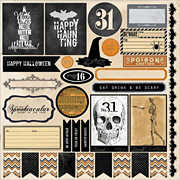 TWO more On Sale! 12″ x 12″ Scrapbook Papers (or stickers):
– Happy Haunting Poison Labels Scrapbook Paper
– Happy Haunting Cardstock Stickers (so many possibilities! Just that bat border running up the side would be perfect on a shrine)

THREE On Sale! Collage Sheets:
– B&W Halloween Borders Collage Sheet (the one Lora used)
– Skull & Bones Collage Sheet (it has various sizes of skeleton hands)
– The Lovely Bones Collage Sheet (it has some creepy eyes that are similar to the eyes below the Devil in Lora's shrine)
An ATC Hutch Kit – Halloween
('cause you need the basic — well "base" — to make a shrine like Lora's)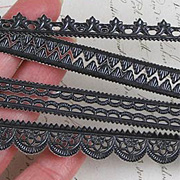 A Cast Vintage Baby Doll (which I think would be a grand stand-in for that skull-wearing cherub on the top of Lora's shrine)
And a Black Dresden Border Sampler Set
Here's a list of all the 14 goodies included in the Giveaway.
To enter the Halloween Hex Giveaway drawing all you have to do is leave a comment (below) on this blog post by midnight, August 30, 2013 (Friday night PST). (Don't forget to leave your (hello! correct) email address, too, so I can contact the winner; your email address does not need to be made public. Note: I'm offering free shipping, too, but only within the USA. International shipping will still apply.)
Please be patient! Spammers try to post crap here a lot so comments are moderated. So if you don't see your post in the comments section, be patient and check back in a few hours before re-posting it, please!
By Sunday morning's newsletter, I'll randomly pick the winner (via Random.org). So make sure to check back Sunday to see who won!
Posted by MizBella, August 29th, 2013