How cute are those! New and On Sale! Halloween charms in eight new shapes and three finishes (all double-sided and made in the USA). Click on any of the photos to see larger pics on the blog (or here to order any/all of them)!

Cubby Box by Nichola!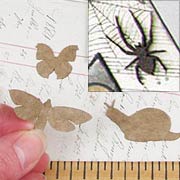 And there's another treat in store today! Design Team Member Nichola Battilana created the lovely Cubby Fairy Box, shown below, using the Garden Insects Cut-Outs (and a whole bunch of other goodies, too)! I love how she painted and then bent up the wings of the cut-outs so the butterflies look like they've just landed on the shadowbox.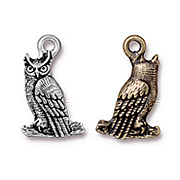 Hey, since everybody's in the Halloween mood… how about taking Nichola's idea and turning it into a HALLOWEEN Cubby Box? Miss Meghan picked out a fabulous set of Halloween (and fairy/insect) Giveaway items so you could make a shrine box like Nichola's or a Halloween version (or mix the two! who knows!)
Meghan included 2 of the New! Halloween Charms in case you want to add a little owl or grave stone on a shelf of your own shrine.

Posted by Leslie, August 22nd, 2013