Teri Calia has been busy! Not only did she create the lovely Midnight Shrine shown at right (using a simple wooden frame so beautifully) but she also designed FOUR New! collage sheets!
That New! Wood ATC Frame is so versatile! It's made of lightweight 1/8″ thick birch plywood (with nicely rounded corners). Approx. 5″ x 6″ with a 2″ x 3″ opening (and Teri's sample at right just uses a small jewelry box behind the opening — to form a little shadowbox — with an image from the New! Vanitas Collage Sheet and tiny dollhouse candlestick and crystal ball 3D elements).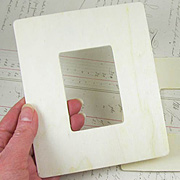 And that fetching beauty holding the mask is from Teri's New! Unmasked Beauties Collage Sheet (and I can see a lot of uses for the images on that sheet… from Mardi Gras to Halloween to New Year's party invitations).
More photos of the two projects shown here (and a third, also using the Wood ATC Frame) are in the Gallery.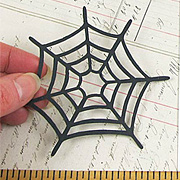 On Teri's Trick or Treat (at left) I love the way that Spider Web Silhouette looks with some added Diamond Stickles. Plus, Teri cleverly used the On Sale! 4×4 Die-Cut Chipboard Frame Set to form the structure of her triptych.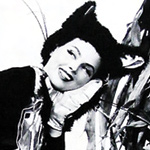 And those kitschy black and white witchy women Teri used are from her New! Women In Costume Collage Sheet!
Here's a broader list of goodies Teri used in her Trick or Treat artwork. Plus all four of the New! collage sheets designed by Teri are directly below.

Posted by Leslie, July 28th, 2013