Note: most of the links on this post no longer work, as we moved to a new Web site in 2018. But you can try searching on the same names (as links below) on the new site.

How cute is that! Design Team Member Nichola Battilana has created a trio of fairy lanterns (using the new Black Tea Lanterns) that light up with LED Tea Lights! Those wings from her own Just Wings Collage Sheet look so beautiful backlit (see the small pics of the lanterns in the dark at the bottom of the photo at right). And more photos of her lanterns are in the Gallery.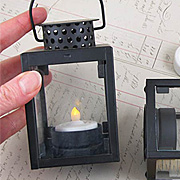 Plus, that very generous Nichola has designed a free Garden Faeries Mini Collage Sheet with those same imps that she used in her lanterns! See the Giveaway section (below) for how you can receive this free digital download!

Some of the other Design Team Members have also used the new lanterns in their artwork — to much different effect! Check out that fabulous (and creepy) Doll Lantern by Rhonda Secrist Thomas! Here's a bit of info from Rhonda: "I used alcohol inks on a piece of transparency, cut it to fit the windows, then just adhered a cut out image from the Dolls in the Attic Collage Sheet. I punched holes in eyes, well, I'm sure you knew that. Then I was trying to take the pic so the light shined through their little, creepy eyeballs." Hee! You can see even more examples by Kira Nichols and Kristin Batsel (plus you'll get to see a few more in coming weeks).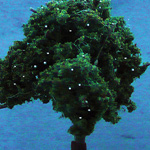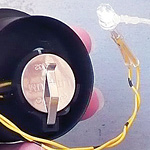 And Teri Calia has made use of a lantern (and the little well in the removeable bottom cap that's made to hold a Tea Light) to use one of the new Mini LED Lights to create a tiny tree with fairy lights! Click on either photo at right to see more details.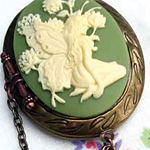 Whew! Even more related artwork: Nichola also used one of the 40×30 Fairy Cameos (used on the top of 2 of her lanterns but not yet mentioned) to make this beautiful Fairy Cameo Brooch!
So with all those lovely examples of fairy art by Nichola, I just had to put the Fairies Collage Sheet Section On Sale! (but only through THIS Saturday evening, June 29th). And don't forget to check below for the Giveaway and for how to get a copy of Nichola's mini collage sheet.


Are you ready? For the Fairy Giveaway!? I've pulled together a set of fairy collage sheets (and fairy scrapbook papers) and a bunch of ribbons, charms and paper flowers based on the color palette from those papers:
– Gnome and Mushroom Stickers (New!)
– 40×30 Fairy Cameo – Godmother (New!)
– Light Green Acrylic Leaves (New!)
– Fairy Rhymes – Fairy Collage Scrapbook Paper (On Sale!)
– Modern Romance – Floral Cards Scrapbook Paper (On Sale!)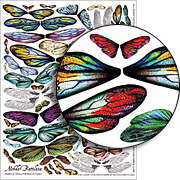 – Just Wings Collage Sheet (On Sale!)
– Pink Fairies ATCs Collage Sheet (On Sale!)
– B&W Fairy Illustrations Collage Sheet (On Sale!)
– Vintage Postcard Fairies Collage Sheet (On Sale!)
– Flower Fairy – Blue Wings Dresden Scraps (On Sale!)
– Altered Fairies Scrap Sheet (On Sale!)
– Marie Fiber Set (On Sale!)
– 1/8 Inch Drapey Ribbon – Turquoise, Yellow and Lilac (On Sale!)
– 5mm Contrast-Edge Ribbons – Pink/Light Pink
– Stitched Leaf Ribbon – Moss Green

– Plastic Pearls (Strands) (On Sale!)
– Mushrooms – Red
– Small Blue Paper Roses (On Sale!)
– Tiny Purple Roses (On Sale!)
– Leaf Sequin Mix (On Sale!)
– 3mm Mixed Color Flowers in Bottle (On Sale!)
– Small Fairy Pendants – Raw Brass (On Sale!)
– Arch Fairy Door Charm
– Violet Gypsy Bead Mix in Bottle
– 12 Mixed Manila Tags

To enter the Fairy Giveaway drawing all you have to do is leave a comment on this blog post by midnight, June 28, 2013 (Friday night PST). (Don't forget to leave your email address, too, so I can contact the winner; note, your email address does not need to be made public. Note: I'm offering free shipping, too, but only within the USA. International shipping will still apply.)
Please be patient! Spammers try to post crap here a lot so comments are moderated. So if you don't see your post in the comments section, be patient and check back in a few hours before re-posting it, please!
But wait, what about that free Garden Faeries Mini Collage Sheet? Everyone who leaves a comment below will be emailed the mini collage sheet! Obviously, you'll need to leave your email address to get the collage sheet (but your email address does not need to be made public).
By Sunday morning's newsletter, I'll randomly pick the winner (via Random.org). So make sure to check back Sunday to see who won!

Posted by Leslie, June 27th, 2013