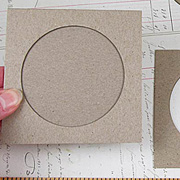 How cute! Teri Calia has made a Peek-a-boo Card with a Mad Hatter's Tea Party theme! Teri used the Crown Teapot Cling Stamp (or is a teapot crown?) to good effect (she colored in the Crown Teapot with colored pencils… if you're wondering, as I was, how she got all those intense jewel-toned hues). See the photo below as that teapot is on the inside of the card.

Plus, pretty much every image you'd need to create your own version of Teri's card (save the stamp just mentioned) is on her New and On Sale! Go Ask Alice Collage Sheet! From the Mad Hatter to the White Rabbit… and even down to the floral teacup on the inside of her card. Plus some Alice phrases including "We're all mad here" and "They're dreadfully fond of beheading people here".
And do you know why that collage sheet is on sale? Because the ENTIRE Alice in Wonderland Collage Sheet Section is On Sale! (but only through Saturday, June 15th, 2013).


Posted by Leslie, June 9th, 2013