A real treat for today: Caroline Ouzts-Hay's creation for the "Mad for Books in May" challenge that we put forth to the Design Team is a beautiful "Concertina" book (an accordion book, and Caroline's version has cut-out windows so you can see into the book when it is open)!
Using the components (and the color palette) from the May Kit – The Language of Flowers Caroline has created a beautiful ATC Accordion Book that has additional artwork inside (see the photos on this page for a bit more of an explanation of what I'm trying to explain). To look at it you may think that it is super hard to make but it is really easy! Caroline shows you how to make the ATC Accordion Book in detail in her video post, and also includes step-by-step instructions with photos on her blog. You can find a complete listing of components that Caroline used in her gorgeous book.
And as you'll need quite a few papers to put together your own book, the ENTIRE Scrapbook Paper Section is On Sale! (Wow… that's HUGE; and the sale is through June 1st!)
More photos from Caroline's book are in the Gallery (including larger photos of the pics on this page).
Note: While I was learning about this book style I found this lovely Pinterest gallery with more samples. Speaking of Pinterest, there's quite a few boards with art by Alpha Stamps Design Team Members!
And don't forget the related Giveaway (below) that Leslie pulled together (taking her cue from the lovely colors in Caroline's book).



Are you ready? For the Concertina Book Giveaway!? I decided to follow Caroline's lead with the Pink (almost a Salmon Pink), Olive Green and Gold palette. And to repeat from Bella's intro, above, as you'll need quite a few papers to put together your own Concertina Book, the ENTIRE Scrapbook Paper Section is On Sale!
So I've included SEVEN On Sale! scrapbook papers that match the palette in Caroliine's book (and that pick up the colors in the two Waterhouse collage sheets used in the book and also included in the Giveaway… more on the collage sheets and other trims below)
– Merryweather – Varnished Tulip Scrapbook Paper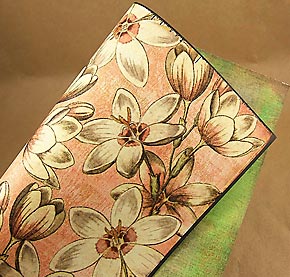 – Curio Upholstery Scrapbook Paper
– Afternoon Muse Carte Postal Scrapbook Paper
– Hope Chest Scrapbook Paper – Documents
– Lille: Abundance Scrapbook Paper
– Odds & Ends: Sampler Scrapbook Paper
– Scribe Notes Scrapbook Paper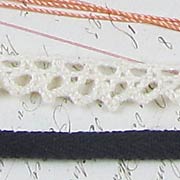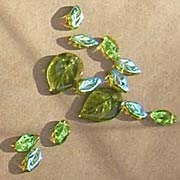 And, I've added a few of the same items that Caroline used in her book:
Stitched Leaf Ribbon – Moss Green
Olivine Glass Leaves
Rose Beads – 2 Sizes On Sale!
Fancy Gold Buttons in Tin On Sale!
Crocheted Cotton Lace Trim
Thin Looped Dresden Borders – Gold
Whimsy Flowers On Sale!
2 colors of 1/4″ Silk Ribbons: Celery and Dusty Pink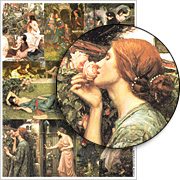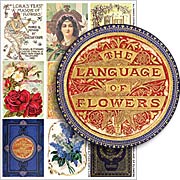 And FIVE collage sheets:
Waterhouse Beauties
Waterhouse Flowers
Violets
The Language of Flowers
Flora ATCs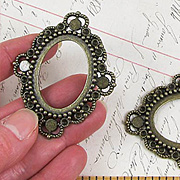 And a few items of my own choosing:
Victorian Cameo Buttons
Gold Felt Flourishes
Ornate Verdigris Metal Buttons
Antique Ornate Frames
To enter the Concertina Book Giveaway drawing all you have to do is leave a comment on this blog post by midnight, June 1, 2013 (Saturday night PST). (Don't forget to leave your email address, too, so I can contact the winner; note, your email address does not need to be made public. Note: I'm offering free shipping, too, but only within the USA. International shipping will still apply.)
Please be patient! Spammers try to post crap here a lot so comments are moderated. So if you don't see your post in the comments section, be patient and check back in a few hours before re-posting it, please!
By Sunday morning's newsletter, I'll randomly pick the winner (via Random.org). So make sure to check back Sunday to see who won!

Posted by MizBella, May 30th, 2013