"Mad for Books in May" continues with this fun, ribbon-bound Travel Junk Book by Design Team Member Rhea Freitag!
Rhea's book has a vintage travel theme and starts out with the Worn Memoir Book Cover (that is actually fabric covered)! The book has a beautiful ribbon binding of the book that is done with Seam Binding (shades of Grey and Mottled Brown). I have yet to find a project that can not be enhanced with the silky feeling of seam binding and nothing drapes as well as it does either.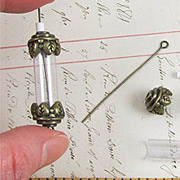 The binding would look beautiful on its own but this is a project brought to you by Rhea so you know she couldn't just stop there. The assorted charms hanging off of the ends of the ribbon are most fabulous; and if you look closely you will see a New! Fairy Vial! These awesome little vials have 2 antiqued brass end-caps with a head pin and tiny rubber stopper, all sized to fit a 1″ long acrylic tube. You can put all sorts of things in the vials; fairy dust, glitter, beads, tiny teeth from naughty children, but in this case Rhea used a postage stamp. Very clever don't you think? (Using the postage stamp, not the tiny teeth from naughty children!)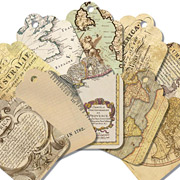 Well OK. I do love the binding on the book but I also adore the New! Global Tags that are used throughout that have beautiful vintage maps printed on them and the New! Vintage Travel Journal Pages. Who doesn't love gorgeous prints on paper to write on and embellish?!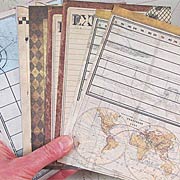 You're in for a supercalifragilisticexpialidocious treat because not only will you have your peepers spanked with the pictures of Rhea's book on her blog and how to create the amazing ribbon binding, but there is also a video she created that lets you take a closer look inside; and to find a few tips and tricks as well!
You'll want to see everything that Rhea uses in the book; I just know it! So here is a handy-dandy link to check out her components list. Plus, here's a ton more photos of Rhea's book in the gallery.
Note: Leslie's weekly newsletter highlights more individual items Rhea used in her book… including some New! travel-themed Digital Images that would be perfect to merge with the papers Rhea used.

Posted by MizBella, May 26th, 2013