It's Memorial Day Weekend here in the US, which means the start of summer. And what more fitting way to start summer vacation daydreaming than Design Team Member Rhea Freitag's Travel Junk Book!
Rhea used scrapbook papers as the leaves of her book and tied the signatures into the spine with seam binding (a clever and easy way of binding a book… and as Rhea shows, a way to tie additional notes and pockets into the signatures, too).
Here's a bit of Miz Bella's introduction to her blog post:
The binding would look beautiful on its own but this is a project brought to you by Rhea so you know she couldn't just stop there. The assorted charms hanging off of the ends of the ribbon are most fabulous; and if you look closely you will see a New! Fairy Vial! These awesome little vials have 2 antiqued brass end-caps with a head pin and tiny rubber stopper, all sized to fit a 1″ long acrylic tube. You can put all sorts of things in the vials; fairy dust, glitter, beads, tiny teeth from naughty children, but in this case Rhea used a postage stamp. Very clever don't you think? (Using the postage stamp, not the tiny teeth from naughty children!)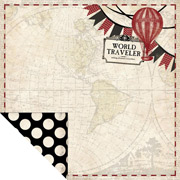 Rhea's book is gorgeous! In addition to the big list of everything Rhea used, I've highlighted some of my faves below.
And, before you wander off to get immersed in Rhea's tutorial (and video tour!) take a sec to scroll down and see the fun library pocket tag book from last Thursday's newsletter (with a related sale, that's still going on) and some long-anticipated items that are back in stock.
Thanks for looking!

Posted by Leslie, May 26th, 2013