Where to even start on this macabre-u-lous Poe Config Book created by Teri Calia?
At first glance you may think that it is just a simple collage paying homage to an Alpha Stamps favorite, Edgar Allan Poe. Perhaps it may just be an old book that has been decorated in honor of Poe that would look great as a Halloween decoration. Oh, but as with any story or poem by Edgar Allan Poe, you must delve a little deeper because things are never quite what they seem!
Open the cover of the book (which is actually a New 9×12 Shadowbox Book) and be prepared… to be wickedly delighted! What awaits you are several 3D mini-vignettes and quotes: all from stories by Poe. I hardly think that anything can get any better than this! Unless of course I can somehow attain the body I had 13 years ago before I had children. But I digress!
Look carefully and you will find The Fall of the House of Usher, The Masque of the Red Death, a tiny letter and pen nib, famous quotes such as "I wish I could write as mysterious as a cat" and more! Poe wouldn't be Poe without a raven now would it? Not to worry! You will find plenty of ravens in there as well.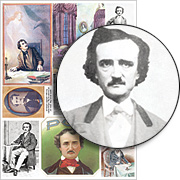 Ahhh, I can tell that you are looking at all of those new Edgar Allan Poe images and wondering where you can get some?! Well guess what? Miz Teri has created not one but two New Poe Collage Sheets! There is the Poe Story Elements Collage Sheet and the Just Poe Collage Sheet — and both are fabulous. Hey, that brings us up to Five Collage Sheets with a Poe theme!
Hush! Do you hear that? Listen very carefully over the beating of your heart; you will hear these haunting images beckoning you to create something of your own with them!
Want to know all of the components that Teri used in her Poe Config Book? Just click here!

Posted by MizBella, May 19th, 2013