And a sweet and easy floral ATC book, pretty enough for a quick Mother's Day project!
Wow! A lot of news for today's newsletter. A whole new Digital Images section on the site, a new section of collage sheets converted to digital downloads (and On Sale!) and (one of my favorite kinds of newsletters): catching up on the orphans (products that arrived too late for some recent themes).

Digital Images
In addition to the "printables" (pre-formatted collage sheets in .pdf format, laid out for 8-1/2" x 11" paper), we are now offering single digital images!
Digital files can be resized, rotated or flipped as needed. Most of the images in this section are in .png format. PNG format files have a transparent background so are easy to layer over other digital images. (Drop shadows are only on previews, and all items are 300 dpi.)
So that quick collage of Cinderella, at right, was a piece of cake! I took an image from The Dressing Table Collage Sheet added the header (and both sides with the fancy gold part of the curtains) from the Red Cat Curtain, then 2 copies of the Side Curtain with Fringe – Blue (one flipped so there would be curtains on both sides). Add some drop-shadows and you're done! (Doesn't everything just look better with a shadow?)
And you wouldn't need to stop there: print out your digital collage, add some ribbons or trims, or paint… or go full-circle and scan the altered collage into your computer again to add even more digital elements.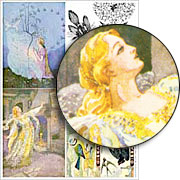 A few of the new images are in multi-file sets (so you can get all 8 color options for that side curtain with one click, and at a discounted price).
We've got a ton of ideas and images in the planning stages, so check back in future weeks for more single digital images.
And, the ENTIRE Brothers' Grimm Fairy Tales Collage Sheet Section is On Sale! That's HUGE (and a section that has been on many requests… and it includes The Dressing Table Collage Sheet with Cinderella from the artwork above). On sale only through Saturday night, May 18th so get over there quick!




Thursday Newsletter Recap: Language of Flowers ATC Book + Giveaway!


Another book design by our Design Team in preparation for our book challenge! We are asking each one of our Design Team Members to make a hand-made book (sized to hold ATCs… or made of ATCs, and using The Language of Flowers as the theme) and will be putting out the challenge to you as well!

And (I know — this may be shocking to some of you), this sweet, simple ATC book is by Design Team Member Laura Carson!

Such a simple design and so many possibilities! As Laura explains in her blog post:

"Continuing on with Alpha Stamps May theme of "The Language of Flowers" is a super-simple-to-make ATC book. The ATCs make up the pages of the book and are connected with jump rings. The cards accordion fold and are held together with ribbon. The first ATC in the book also serves as the cover."

And who won the related GIVEAWAY?)

——— Read the full blog post ———
Posted by Leslie, May 12th, 2013