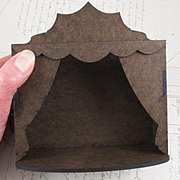 What a treat! A new Masonite Theatre Shrine Kit (a smaller version of the Ornate Theatre Shrine Kit – Large) and artwork by three artists to show it off! Plus four new collage sheets designed for the theatre! (And, of course, there were more new goodies added to the site this week, too… and don't miss the recap of Thursday's tutorial for a preview of the Book Challenge.)
First, there's the Small Theatre Curtains Collage Sheet, designed by Design Team Member Nichola Battilana and used in her Flying Bee Theatre shown at left! It includes beautiful, richly colored sets of curtains in 6 colors.
And check out that raw Brass Flying Bee (on the theatre artwork and at left).
Then, cast your eyes on the Naughty Flower-Eating Monster Theatre (!) by Design Team Coordinator Miz Bella (Kim Ayers)! There's one photo below, but there is so much wacky, colorfulness that you'd better check out all the photos in the gallery.

Here's just a handful of the flowery bits Bella used in her creation (and here's a link to all the components in her artwork):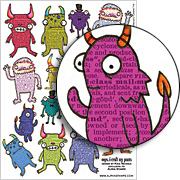 – Closed Red Tiny Rose Buds
– Orange Daisies
– Purple Iris Paper Flowers
– Tiny Purple Roses
– Tiny Orange Roses
– Fancy Gold Buttons in Tin
– Kira's Flowers Collage Sheet
– Kira's Owls Collage Sheet
– Little Monsters Collage Sheet
– Pewter Dollhouse Dishes
– Pewter Dollhouse Tea Service
Then check below (below the row showing off all four of the lovely new collage sheets) for the third of today's sample artwork: The Fairy Queen's Garden by Teri Calia! Another riot of color! Must be Spring in the air (though we skipped Spring and jumped straight into Summer here this week).
There are lots of new items Teri used in her theatre highlighted below, but I couldn't show them all so here's a link to all of the components used in Teri's artwork. And additional photos are in the gallery.
Speaking of wild colors, have you checked out the swap artwork from the Spring Fling 4×4 Swap in the gallery! Amazing stuff! And if you're in the art-swapping mood, The Language of Flowers ATC Swap is still open to participants! And don't forget the related Sale on the ENTIRE Summer Garden Theme Theme!




Collage Sheets Designed for the New Theatre Kits



Recap of Thursday's Star Book Tutorial AND Book Challenge Preview


Design Team Member Kristin Batsel created a stunning Star Book and also created a step-by-step tutorial so that we can all make our very own.

NEWS: Alpha Stamps is going to be hosting a book challenge! We are asking each one of our Design Team Members to make a hand-made book (sized to hold ATCs… or made of ATCs) and will be putting out the challenge to you as well!

So check back all month for tutorials and book design ideas. And for the announcement of the challenge and a big prize to the contest winner (to be chosen by you)!

Shoot on over to Kristin's blog and see her Star Book Tutorial! (And won the related GIVEAWAY?)

——— Read the full blog post ———
Posted by Leslie, May 5th, 2013