Wow! Lots of colorful goodies this week! From a whole new section of collage sheets from the whimsical mind of Design Team Member Kira Nichols… to butterflies and sea creatures… to new collage sheets of Imps and Fairies!
So let's dive in with the New Collage Sheets by Kira (who designs under the name Oops, I Craft My Pants!)
From that charming pop-up card with spangly sequin-hatted owls at right, to the mermaid ATC (at left, using the Kira's Fish Collage Sheet), I love how Kira uses color!
And beside that Fish Collage Sheet, and the four listed/pictured below, there's also a Toucans Collage Sheet that Kira featured in an adorable book.
Here's a link to all of Kira's New Collage Sheets. And see all the New Artwork by Kira (using her new collage sheets) in the Gallery.

Little Imps Collage Sheet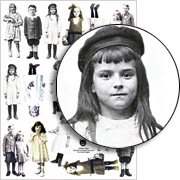 Similar to the Little Darlings Collage Sheet, each of these kids appears twice, once in reverse, so that you can paste them back to back.
Licensed from the fabulous Teri Calia.
So cute! A Day at the Circus, at right, by Design Team Member Kristin Batsel; components in Kristin's artwork. (And I love the vintage look she gave to those Alphabet Baby Beads.)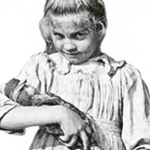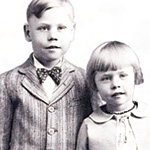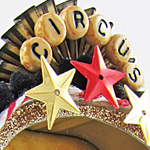 Whimsical Frames Collage Sheet by Laura Carson

Recap of Thursday's ATC Armoire Tutorial by Laura Carson

OK… probably way too short to call this a recap… more like a teaser. Laura has designed a New! Tick Tock Collage Sheet (that includes lots of clocks — as you'd imagine — but also two facades for the top of your armoire!)
Winged Things Collage Sheet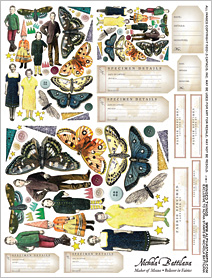 Ah… now we have those fairies I mentioned earlier.
Not only has Design Team Member Nichola Battilana created a darling collage sheet with adorable people (hand-tinted from family photos) plus an array of wings in various sizes to make your own fairies… PLUS some "Faerie Specimen" tags and catalog stickers (also in various sizes), BUT she also made the sweet Faerie Specimen artwork shown at right!
(And a bit more patience… those Glass Domes are still at sea (the Pacific Ocean is quite wide) but I'll let you know when they're back in stock. Or you can request an email notification when they're available.)



Colorful New Products (or shiny things that reflect color…)


Butterfly Brads
On Sale!
Posted by Leslie, April 7th, 2013