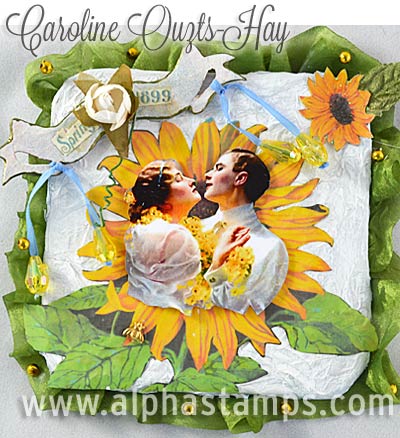 It's Saint Patrick's Day! And we're certainly got a lot of green (leaves, that is) as I've been collecting Spring flora (and fauna) for a new Spring Fling 4×4 Swap! But whether or not you've got time to join the swap, you can still enjoy the flowers and the lovely Design Team artwork.
Here's a link to all the swap info, but as you can see the theme can vary from flowers to couples in love to… who knows what Spring ideas you'll come up with.
And speaking of flowers, I've got 2 treats for you! First, ALL of the Spring & Summer Flowers Collage Sheets are On Sale! (The collage sheets are on sale through April 13th, which should give you ample time to finish your swap artwork.) Wait… what due date? Artwork should be postmarked no later than April 20th.
Next, see that sunflower theme in the Design Team samples? Sunflowers may be a little premature for March but there's a new collection of French Country papers (including 2 sizes of paper pads, twelve full-size scrapbook papers and an adorable set of miniature die-cut banners) that are all on sale (but only through Wednesday, March 20th, the first day of Spring).
Below are highlights of a few of my favorites, but see all of the collection on the New Products page. (And don't miss scrolling down to see some other new butterflies, birds (including cute owls) and nests.)

Posted by Leslie, March 17th, 2013