Note: most of the links on this post no longer work, as we moved to a new Web site in 2018. But you can try searching on the same names (as links below) on the new site.
I am simply running out of words to describe the visually intoxicating creations by Laura Carson!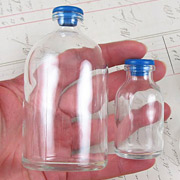 The latest from Miz Carson are these gorgeous altered bottles. While they may look like it would take forever and a day to create such loveliness, once you see Laura's tutorial you will think to yourself… pshh! Not only can I do that in a day, but I can wrap them up and hand them out as presents, too!
My favorite technique out of all of them is using Alcohol Ink under Gold Mixative on the Red and Gold Bottle. I dooooo love my Alcohol Inks and after seeing how easy it is to do, I will be inking up all sorts of glass objects.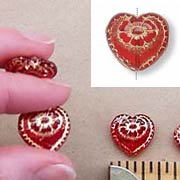 Also, the masks that Laura uses are STICKERS!! How faboo is that? Good thing that Alpha Stamps has a huge assortment of Ornate Metallic Stickers because you'll want to stock up on them. (And check below for links to some new stickers that Laura used on the pretty bottles shown.)

Then again, I adore the Gold and Patina Bottle that uses Gilders Paste on glass… decisions, decisions!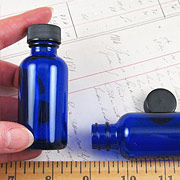 Here's a preview of some of the New! items used in the tutorial (or you can preview them via the photos below):
Romance Collage Sheet
Mini Rose Buds – Red
Antique Silver Swirl Oval Ornament – Small
Antique Silver Ornament Bead – Large
Dazzles Pearl Blue Snowflakes Stickers
Dazzles Gold Heart Stickers
Alcohol Inks – Clover
These New! Clear Stickers with Gold Hearts aren't used as masks (as the centers of the hearts are clear stickers so wouldn't work well as a mask) but the swirly designs look great with the Dazzles Gold Heart Stickers.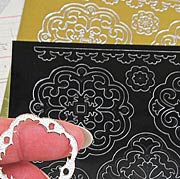 And here's some more New! metallic stickers that would work great as masks (or just pretty ornamentation for collage projects):
Dazzles Red Jewel Stickers
Dazzles Stacked Gold Ovals Stickers
Dazzles Stacked Flourishes Stickers
Since Laura uses a Pagoda Hanging Lantern as a bottle stopper, here's another New! metal lantern to keep in mind: Hexagon Hanging Lantern.
There are so many beautiful embellishments on each bottle that I've broken up the links (to see all the components) per bottle:
– Frosted Pink and Gold Bottle
– Gold and Patina Bottle Colored with Gilders Paste
– Red and Gold Bottle Colored and Stenciled with Alcohol Inks
– Blue and Silver Winter-Themed Frosted Bottle
So here's the link again to Laura's tutorial: Frosting and Other Decorative Techniques for Altering Bottles. And if you're wondering, that paper behind the 3 bottles in the larger photo above (with all the fun calligraphy flourishes) is the New Scribe Notes Scrapbook Paper!

Posted by MizBella, January 24th, 2013