It's December 2nd, Day 2 of The Twelve Days of Christmas at Alpha Stamps!
On the Second Day of Christmas my true love gave to me… Two fancy-schmancy Turtle Dove Houses by Nichola Battilana!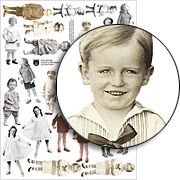 I just love how Nichola transformed 2 simple Paper Mache Birdhouses into these stunning perched creations! What Turtle Dove in their right mind wouldn't want to live in them? What about the super-cute little boy from the New! Little Darlings Collage Sheet holding the 'Merry Christmas' sign? Don't you just want to bite him and put him up on your shelf?
The best thing about Nichola's entire project? She shows you how she made the two birdhouses, so grab yourself some hot chocolate and get on over to Nichola's blog to find out how to make your own spectacular bird abodes. They'd make amazing holiday gifts!
Highlights of a few items Nichola used are below (including the On Sale! Brass Turtle Doves and Aesop's Fables – Tortoises and Hares Collage Sheet!); here's a list of all the components used in her artwork.

Posted by MizBella, December 2nd, 2012